Over 11.44 lakh PAN cards deactivated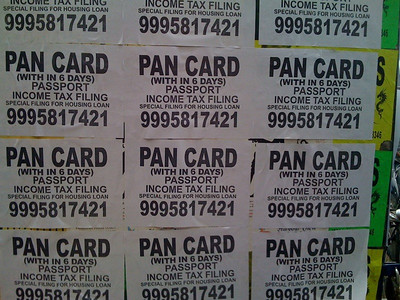 The Government of India has recently deleted or deactivated over 1,144,000 Permanent Account Number Cards, or PAN Cards, as per a reply to the Rajya Sabha by the Minister of State for Finance, Santosh Kumar Gangwar.
Similar to other cases of PAN card deactivation and deletion, this is due to these cards being allotted to people who do not exist, or the PAN cards being placed under the ownership of people with false identities.
However, there is an easy step-by-step process that you can do to check to see if your PAN card is valid, in order to avoid any confusion. These are the six simple steps to follow:
Firstly, go to the site of the Income Tax Department of the Government of India. Click on the button that is labeled "Know your PAN", located on the left side of the section labeled "Services".
Secondly, after clicking that tab, be sure you are on a page that requires you to fill in your personal information, such as your name, date of birth, and a phone number to contact (this can be any viable phone number).
Thirdly, after putting in all of your personal information, there will be another redirection to a page in which you must enter a One-Time Password (or OTP), which will be sent to the entered phone number.
Fourthly, after receiving the OTP, enter it in the space provided on the page and click on the tab labeled "Validate".
Fifthly, check to see if your PAN card is labeled as "Active". If it has not been duplicated, given to non-existent people, or issued to multiple people, then it will only show the PAN card as Active.
Sixthly, if there are multiple PAN cards with the same personal details as yours, then there will be a message notifying you that there are multiple results for this query.
If this happens, then you will have to provide additional information, such as your father's name, your first school, or other personally-known identification details.
Image credit: Pan Card image by Liji Jinaraj is licensed under CC BY-SA 2.0
Image Reference: https://www.flickr.com/photos/karmadude/4233275524
What's new at WeRIndia.com