Woman earns lakhs by selling homemade hair oil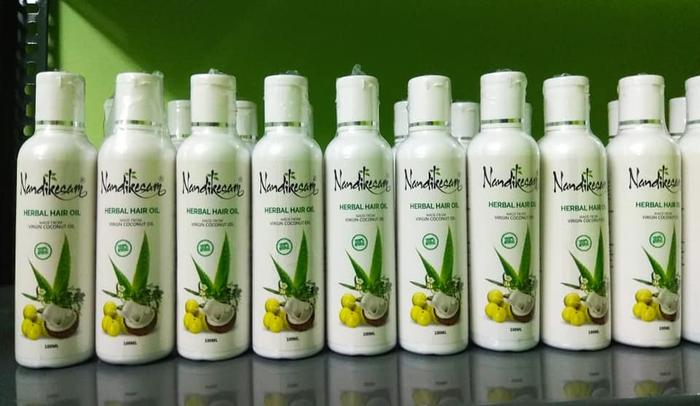 There are many hair care products in the market. However, it is not clear whether they actually help your hair or not.
A woman from Kerala is also skeptical about the haircare products available in the market. When her daughter was facing a severe dandruff problem, she tried different products, but was not satisfied. Instead of improving her hair, these products made it worse.
Sreevidya M R from Thiruvanthapuram worried about the dandruff problem of her daughter, Gayathri. She used various oils and shampoos to solve the problem of her daughter but found no help.
Worrying about the problem of Gayathri, Sreevidya decided to make herbal oil at home as per the suggestion of her mother. Her mother used to apply a traditional oil due to which she did not have dandruff problems.
She then wanted to make the traditional oil for her daughter. She used coconut oil and milk, gooseberry, hibiscus, aloe vera, and other essential ingredients to make this herbal oil.
She made one kg of hair oil for her daughter with the help of her mother. However, she was not sure whether that oil remedy solves her daughter's problem or not. This is because even the best products in the market could not solve the dandruff problem.
However, with little hope, she applied the herbal oil regularly to Gayathri's itchy scalp. Within one week, her hair condition began to improve. The flakes and white scales on her scalp started disappearing. Besides, her hair turned into black, which was dark brown in the past.
Gayathri's friends and teachers surprised at this and wanted to know about it. Later, several of her relatives and friends also wanted to obtain this hair oil. Upon the demand of all of these, Sreevidya started selling herbal oil.
She launched Agada Herbal Remedies with an amount of ₹4 lakhs. She started selling Nandikesam herbal hair oil. 100 ml of this oil costs ₹350. The oil is available on the Facebook page and Amazon. She also makes herbal shampoo, indigo oil, and sanitisers on the demand of customers.
Image Credit: Nandikesam on Facebook
Image Reference: https://www.facebook.com/Nandikesam/?ref=page_internal
Recent Posts

Pay your loans, credit card bills, and other

PotHoleRaja developed GridMats technology and patented it.

To help farmers improve the shelf-life of their
What's new at WeRIndia.com