Visually impaired music teacher enters Limca Book of Records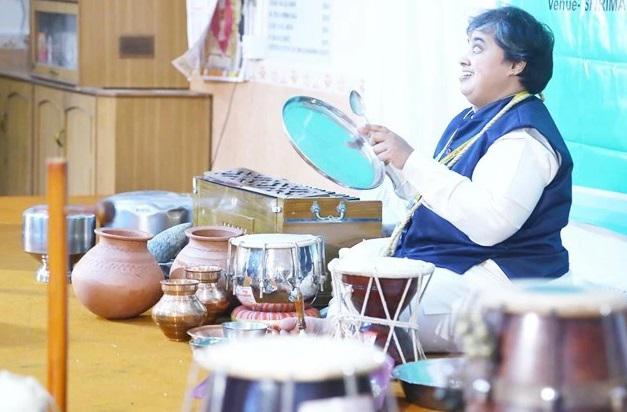 Yogita Arun Tambe, a 34-year-old woman from Mumbai created a world record for playing 50 instruments in 49 minutes.
Initially, she wanted to play 100 instruments, but since she did not have access to many instruments, she finalized the event with 50 instruments.
She became a Limca Book Record Holder by achieving this feat.
She played the instruments including tabla dholki, nagara, dimdi, halagi, dholak, nashik dhol, tasha, damaru, sambal, tal, manjiri, khanjiri, zhanj, ghungru, along with glass plate, steel plate, kasya plate, tutari (blowhorn), pitalwati, chapbook, and bangalya.
Yogita is visually challenged, yet is talented in music since her childhood. She used to play on the utensils while eating food in her childhood.
She had a home tutor in her childhood to teach her tabla. However, she was bored with classes and asked her teacher to play songs for her which she would play on tabla immediately.
Her teacher agreed and did as per her word. When Yogita played all the songs, he was surprised and suggested her to get training from a more experienced mentor.
Yogita can play 65 instruments. She says that if anyone knows how to play the tabla, then he/she can play any other instrument. Tabla has many patterns; hence playing the tabla can help learn other instruments easily.
She wants to learn the sambal and chenda which she finds very difficult to play. She hopes to learn playing these two instruments and make her total playable instruments 67.
She was honoured with the Outstanding Creative Adult Personality with Disabilities award in 2016 from the former Indian President Pranab Mukherjee on World Disability Day.
Besides music, Yogita has interest in vocal music and theatre-art. Her role model is Pandit Bhim Sen Joshi.
She has never thought about her disability as a hurdle. She confidently says that she indulged in many activities that people with vision do.
Image Reference: Indianexpress
Recent Posts

Amla Magic: 8 Ways Indian gooseberry transforms your hair

Here are 8 effective ways to incorporate Amla into your hair care routine.

BJP's Ishwar Sahu, a riot victim, triumphs in Chhattisgarh's Saja constituency

During the election campaign, Ishwar Sahu did not shy away from addressing the tragic events.

Bhopal's Sankat Mochan Hanuman temple dresses Gods in warm attire

In a unique and heartwarming gesture, the Sankat Mochan Hanuman Temple in Bhopal, Madhya Pradesh, has adorned idols of gods, including Lord Hanuman, Lord Ganesh, and Lord Shiva, with warm clothes to shield them from the cold winter air. A video capturing this thoughtful act shows the deities donning shawls and cozy attire inside the temple, reflecting a blend of spirituality and seasonal care.
What's new at WeRIndia.com