Vanita Kariappa – Teacher of a kind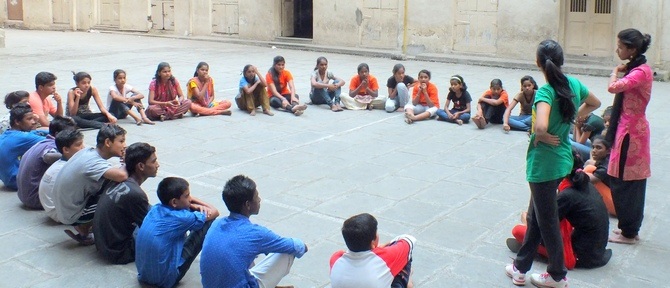 Imagine a class where the children haven't settled down even after more than 40 minutes of commencement. Imagine the students and the teacher clearing the mess in the class that someone has left behind. This is the kind of class that Vanita Kariappa had to deal with. She teaches at a community space on weekends under Rangmanch, an NGO she co-founded. To this class, children from surrounding slums come to learn about theatre and performing arts. This class is a stage located at the entrance of slum in Mumbai which is usually made into a mess.
Things like this keep hindering the goal of Vanita but nevertheless she stayed patient. She says that these are the kinds of things that taught her patience. She says that dealing with kids never goes as planned. However, Vanita cannot imagine doing anything other than working with children. She is a 20 year old girl who prefers to organize classes for children rather than have fun with friends.
Vanita had her first teaching experience at the age of 17. She worked for several NGOs and participated in several missions. While she was working with Akanksha Foundation she was assigned to take a class in mathematics for kids from the seventh grade. After that she found her passion with teaching kids and later co-founded Rangmanch NGO.
What's new at WeRIndia.com