Teen helps senior citizens become tech-savvy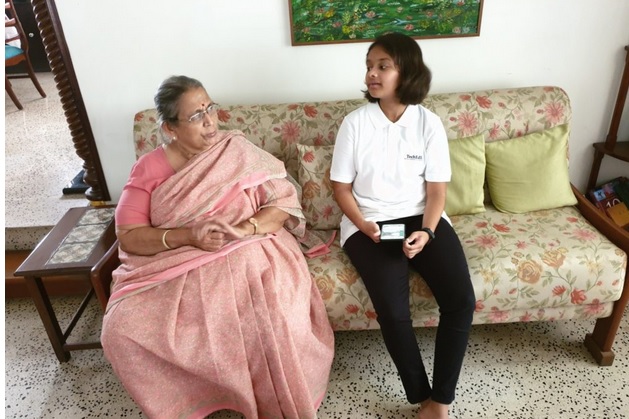 While new technologies emerge in the market, it becomes difficult for everyone to be accustomed to them. Especially senior citizens find it difficult to adapt to new technologies compared to youth and children. Things like downloading apps, ordering from eCommerce websites or making online transactions are simple for youth. But, many senior citizens and elderly people feel these things are difficult.
Hence, they depend on youngsters to learn about these technologies. But, it may not be possible for them to help senior citizens every time they need it. It is also quite common for the youth to become impatient when elderly people seek their help. At such times, elderly people or senior citizens feel disappointed or helpless due to their inability to learn or use technology. To help such people, a 14-year-old girl from Chennai launched a startup, TechEdEn.
Tanvi Arvind is a student of Grade IX. She launched started TechEdEn, a services startup to help elderly people become tech-savvy.
Tanvi started this startup from her personal experience. Her grandparents live in Bengaluru. She found that they were struggling to use technology whenever she visited them. Despite having iPads, smartphones, and a laptop, they could not use them due to lack of knowledge.
Tanvi used to teach her grandparents on her every visit to them. Then she decided to start TechEdEn to enable senior citizens to use technology.
She teaches elderly citizens various technology related things. These include booking online tickets and cab services, using social media and Google Maps, ordering foods from Swiggy and Zomato, using Zoom and Facetime to connect with their children.
Tanvi charges ₹500 for a one-to-one session and ₹300 for a group session of four per hour.
Image Credit: Chennaiinsider Website Screenshot
Image Reference: https://www.chennaiinsider.com/tanvi-arvind-young-ceo-techeden/
What's new at WeRIndia.com