Paper-Mâché Dolls by Ramani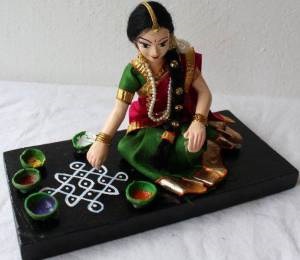 Nothing is waste in this world. This is very true for Ramani from Nagpur.
She has been running a handicraft unit in Nagpur for over 25 years.
Saw dust, chalk powder, marble powder, cloth, jute, laces, waste papers and old newspapers are raw materials in this unit. She is skillful in making paper-mâché handicrafts, one of the ancient arts.
She is a science graduate and has done a M. Phil. In Public Administration. She started this as a hobby.
Being inspired by her mother, she learned stitching and used to make dolls with cotton and cloth using clay.
Later, she developed the skill to design paper-mâché costumed dolls on trial and error method.
She cultivated her skills and turned her hobby into a commercial venture.
Some of the dolls made by her unit include Indian brides and bridegrooms, Indian tribes, Indian classical and folk dance forms, men and women in traditional costumes from different states of India, village men and women at work, Indian Gods and Goddesses, and Indian weddings and festivals.
In addition to dolls, the unit designs statues, pots, vases, wall hangings, bells, bowls, pen stands, photo frames, and many other household articles.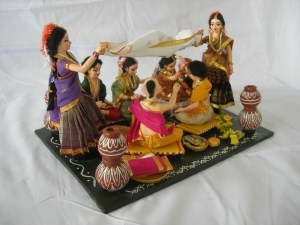 These crafts are exhibited in various places in India, and also in other foreign countries like US, Dubai, Italy, Canada, Norway and Denmark.
Her unit has 15 women workers which produces around 200 paper-mâché costume dolls each month.
These dolls depict the Indian tradition and culture.
She is the only manufacturer to design such dolls in India.
She would like to train women who are interested in art.
What's new at WeRIndia.com