Meghalaya man earns lakhs with aloe vera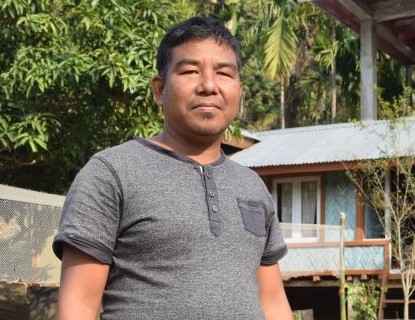 Layland Marak from Ganolgre village, Meghalaya was not born in a rich family. Yet, he is earning lakhs of rupees with his hard work and passion.
This 49-year-old man was born to poor farmers in Meghalaya. His parents were struggling to provide basic and daily needs to all of their seven children. Things became worse after their death in an accident.
After the death of his parents, all siblings could not live together under one roof. Layland had to move to one of his relatives in Williamnagar, and his siblings also moved to different relatives' homes who offered a shelter to them.
Layland understood that education was the only way to come out of such difficult situations. He excelled at school. While everything seemed to go smoothly, he had to undergo surgery for his eye problem before his final exams in his second year of graduation.
As a result, he missed the entire year. He tried to complete it in the next year as he did not want to give up. But his deteriorating eyesight did not permit it and he discontinued his higher studies.
Despite his poor job opportunities, he achieved a position of an assistant teacher at Jengjal Primary School with his perseverance.
With his job, Layland was able to support the education of his two sisters. He supported them until they finished their education and got enough work to be self sufficient.
Then Layland got married. Now he is a father of four children. Then, he wanted to serve his community. He built a self help group (SHG). The SHG set up a transportation business to ferry passengers between Asanang and Tura, but after some time, it discontinued due to low profit margins.
At that time, the International Fund for Agricultural Development (IFAD), organised a two-day training on aloe vera cultivation and processing. It attracted his attention. Later, he attended several workshops as well.
He also trained several farmers and finally they established a new aloe vera processing factory. The SHG makes different products including soaps and gels. Initially, it earned a revenue of ₹7,00,000. But, it slowly increased. In 2019, the profit of the SHG is ₹20,00,000.
Image Credit: Meghalaya Basin Development Authority Website Screenshot
Image Reference: https://mbda.gov.in/success-story-layland-marak-who-pioneered-aloe-vera-processing-garo-hills
Recent Posts

The Rural Postal Life Insurance Scheme offers different

Use cold-pressed virgin coconut oil to ease the

The bank can offer you a lot of
What's new at WeRIndia.com