Meet the billionaire barber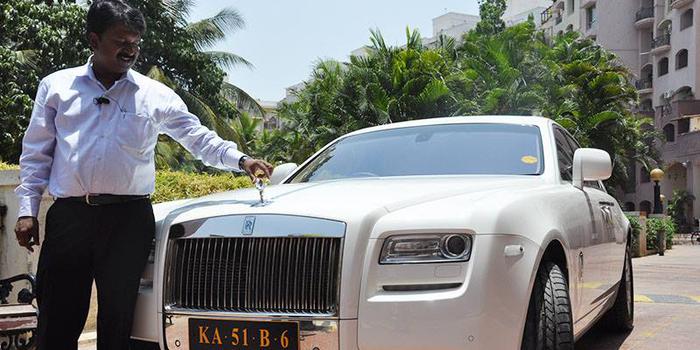 Ramesh Babu has a special story that can fill one with awe. If you look at his office in Ejipura, Bengaluru it will have miniature cars called mini Mercs. You will see several vintage cars and a Rolls Royce.
If you are wondering what makes a car collector special, it is the pecial story behind it all that makes it special.
Ramesh who started his career as a barber invested in his first car in 1993.
Through his determination today he is a billionaire and got the title of Billionaire Barber.
Ramesh came from humble origins. He lost his father at an early age. His family was suffering with poverty.
The only thing he had back then was the saloon left by his father left a saloon which was taken care of by his uncle . At that time, his family used to get ₹5 each day.
Ramesh, his mother, grandmother and siblings struggled to get even food and clothing.
When he was 13, he took a job delivering newspapers which was when his family started getting steady breakfasts in addition to their single meal. Doing that job, he continued his studies and supported his family.
It was in his pre-university years that he took over the saloon and called it Inner Space.
At that time, Ramesh had no resources except his own wits and determination to succeed. Using all his family savings, he renovated the saloon and hired two workers.
Ramesh dealt with many problems and persevered.
It was after three months, Ramesh got the chance to do hairstyling himself.
With just that, his life changed. His business flourished and a year later he signed up for hairstyling courses to improve his skill.
With those earnings, he bought his first car and his venture grew exponentially in two decades.
Now, Ramesh Tours & Travels has a fleet of more than 400 cars with models like BMW, Mercedes, Jaguar and even the Rolls-Royce Ghost.
Recent Posts

There are certain rules and customs duties for

Vitamin B12 is commonly found in meat, fish

These IIT students designed a water purifier that
What's new at WeRIndia.com