Kerala youths help coconut farmers boost income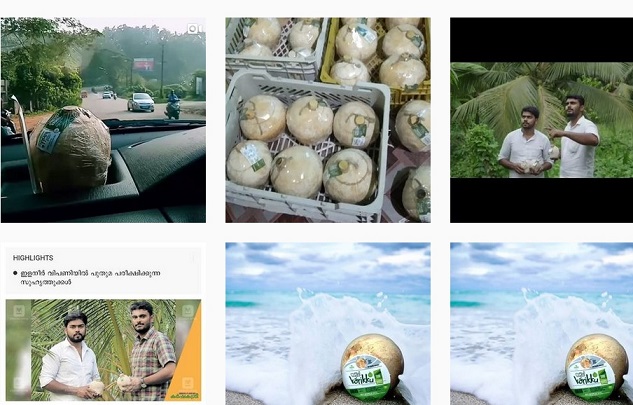 Tender coconut has many health benefits. However, it is difficult to find their expiry date as some coconuts lose their taste after a few days of harvest while others have less water.
To help coconut farmers solve these issues, two friends from Kerala came up with a solution. Abdul Shameer and Sadakkathulla launched a startup, Royal Karikku to help coconut farmers. Royal Karikku means tender coconut in Malayalam.
The friends started their venture due to their personal experience. When one of the relatives of Abdul Shameer was hospitalized, he bought a tender coconut for him. Later he found that the coconut lost its taste and water due to overexposure to the sun.
Then he contacted the shopkeeper (seller). However, the seller said that it is difficult to identify the fresh fruit or one which has more water among lots of coconuts. He also said, that most of the coconuts were imported from Tamil Nadu and their harvest date was also not known.
Then Abdul and his friend experimented with coconut to find their expiry date. They directly procured tender coconuts from farmers knowing their harvest date. The shelf-life of tender coconut is around 30 days when it is stored in a cool and dry place. If you keep them in direct sunlight, they will lose their shelf-life. Hence, they should be consumed within a week or else they would lose their taste.
The duo realized that many farmers sell their coconuts to agents for ₹16 each due to shipping constraints, while the agents sell them at the rate of ₹24. They also came to know that the delay between harvest and the time it reaches to end customers leads to the expiry of the fruits.
The friends want to eliminate the middle agents to provide the benefit directly to the farmers. However, in practice, it was not possible. Hence, they came up with a solution of offering an expiry date for coconuts based on the collection date. It helps customers make a decision.
Coconuts have to be stored in the freezer to improve their shelf-life. However, due to their large size, several shopkeepers found it difficult. Hence, the duo proposed another solution. With this, the coconuts will come after peeling off their husk to be small.
The coconuts have the price tag, date of collection and the expiry date. Price of coconuts varies between ₹49 and ₹59 depending on their size.
Image Credit: Royalkarikku Instagram page screenshot
Image Reference: https://www.instagram.com/royalkarikku/
Recent Posts

Soluble fibre also helps reduce LDL cholesterol.

If you have any outstanding tax dues, you

Do you want to be the proud owner
What's new at WeRIndia.com