Illiterate man helping students with books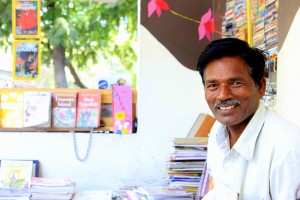 Dilipbhai Pujaram runs a road side book store on a busy road in Vadodara.
His story is quite surprising and inspirational. A simple illiterate man has been helping hundreds of students with his roadside book store.
It all started when he first sold "life magazines" on a cycle.
He has been selling books for 22 years. In the beginning he used to sit near the fine arts college for many years.
He was very popular with the students. However, he was forced to shift by the parking officials.
With the help of some architecture students, he started the 'Urban Bookshelf' on the road of SSG hospital.
He says that even though he is illiterate he loves to help students with their learning with these books. He says that helped many students finish their assignments with his books. He himself has three sons.
Two of them are in eighth grade while the other one pursuing his masters in science.
He greets his customers with a warm smile and his talking skills have made him a friend than just a book seller.
He takes great pride in his work and his children.
It is quite amazing to see such a simple man bringing so much to the students around him.
Image Reference: Thebetterindia
What's new at WeRIndia.com