Hyderabad toddler holds World Record for his sharp memory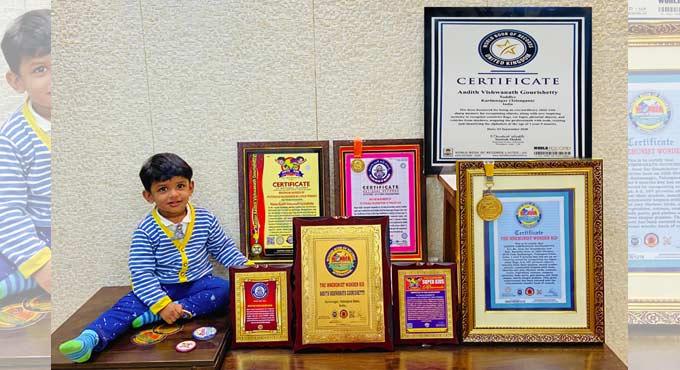 Aadith Vishwanath Gourishetty, a toddler from Telangana, surprises everyone with his sharp memory.
At the tender age of one year and nine months, Aadith bagged five records in his name for his excellent memory skills. The boy holds a record in World Book of Records, India Book of Records, Telugu Book of Records along with two other National Records.
Aadith can recognize all English alphabets, domestic and wild animals, professions, body parts, flags of different countries, deities, fruits, home appliances, vehicles from shadows and many more.
Aadith's patents Arun Sai and Snehitha said that the boy received many certificates for his exceptional memory skills.
His parents said that they wanted to test his unique ability and showed him an image of the Indian flag. Later, Aadith recognized the Indian flag when they were watching the speech of PM Modi on Independence Day.
Then, his parents recognized his ability since he could remember the Indian flag by just seeing it once. They showed him flags of different countries, and Aadith could recall all of them. Thus, they taught him all the things. He could remember all those.
His parents said that every child has unique talents and parents have to identify and nurture them.
Aadith's ability was first identified by his grandparents, as he could recognize the images of various Gods by just seeing once. His grandparents helped him overcome different challenges.
His grandmother recognized that the boy could identify the image of Sai Baba and Venkateshwara Swamy. She shared the incident with his parents. Then they came to know that the boy has a unique talent and memory skills. They want to nurture it with their care and love. Now, he can identify the images of 15 deities and also can map professions with tools.
Several people appreciate the skills of this super kid.
Image Credit: Telanganatoday
Image Reference: https://telanganatoday.com/hyderabad-toddlers-sharp-memory-wins-accolades
What's new at WeRIndia.com