Nagpur Metro creates world record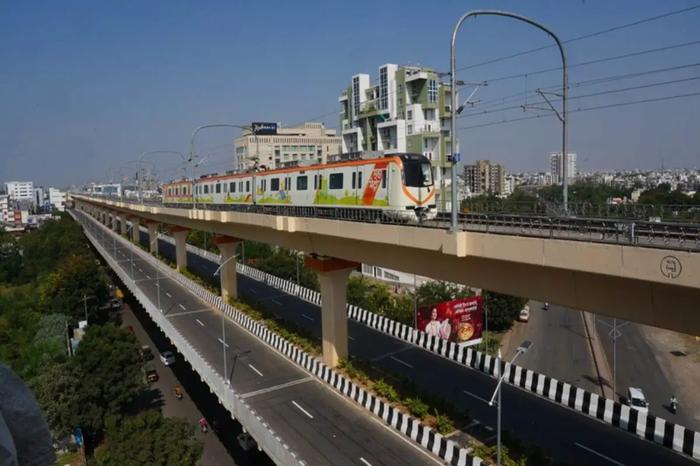 Nagpur Metro in Maharashtra created the longest-double-decker viaduct metro, which was built on Wardha Road. It has been included in the Guinness Book of World Records. The length of this viaduct is 3.14 km.
An event was held in Nagpur yesterday. Maharashtra Metro Managing Director Brijesh Dixit received a certificate from the Guinness World Records at the event.
While receiving the certificate, Dixit said completion of the project was a big challenge for the team.
This three-tier structure built on Wardah road has Nagpur metro rail on top and the pre-existing road at the ground level. The highway flyover lies in the middle.
In other words, it has three layers. The existing road is in the first layer. A flyover highway in the second layer and a metro rail in the third layer. While the flyover highway was built at a height of 9 meters, the metro rail was built at a height of 20 meters. Hence, the construction was a major challenge for the team.
However, they completed the project successfully. Now, it has been recognized as the longest structure in the world. It has three stations.
Not just the Guinness Book of World Records, but the India Book of Records and Asia Book of Records also recognized it as the longest of such structures across the globe.
In addition, it has also been recognized for having the maximum number of metro stations constructed on a double-decker viaduct.
Both the Maharashtra Metro and the National Highways Authority of India (NHAI) jointly built the double-decker viaduct. They achieved Guinness World Record for building the longest double-decker flyover.
In the meantime, the Pune Metropolitan Region Development Authority (PMRDA) started working on the construction of another double-decker flyover. It will be built on Ganeshkhind road by the end of 2024. It will connect three roads.
Image Credit: Heramb2, CC BY-SA 4.0, via Wikimedia Commons
Image Reference: https://commons.wikimedia.org/wiki/File:Nagpur-Metro.webp
What's new at WeRIndia.com