Hasitha Illa – A Motivational YouTuber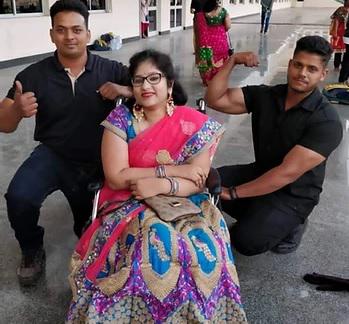 Hasitha Illa, a 24-yer-old recently shared her story on Instagram. She is a motivational blogger and YouTuber. Her talks on http://lifewithhasi.com/ are popular.
She has a BTech in Biotechnology. She has a younger brother. Hasitha's father is a software engineer and mother is a homemaker. They moved to the USA in her childhood as her father got a job there.
Hasitha was very active in her childhood and busy with many activities like Gymnastics, Football, Karate and Swimming.
But, one day, she started limping. Her parents worried and immediately took her to the hospital. Doctors advised her to lose weight. However, they did not diagnose her condition. After several visits to the hospital, doctors identified her problem.
She was diagnosed with a rare and progressive disease, Friedreich's ataxia. The disease has no cure.
She was heart-broken after knowing her condition. Due to her physical transformation, she had to discontinue football, her favourite sport.
Besides, people started bullying her. Only a few people supported her. Yet, she focused on the negative aspects which dragged her into depression.
She started isolating her during the day and crying at night. As her disease was progressing, she needed the support of others. So, she had to use a wheelchair and she was reluctant to use it.
She used to feel uncomfortable at the gazes of the people. Then her mother decided to introduce meditation to improve her mental health.
Though Hasitha was not interested, she started meditation to keep her mother happy. But, it made her atmosphere more positive and motivating. The relaxation techniques soothed her body and soul. It improved her self-confidence as well.
She started cherishing the positives in her life. She participated in Miss Wheelchair India pageant also. She focused on her hidden talents. She began blog writing to inspire many people. She received the women empowerment award for her efforts. Now she is thankful to God for her wonderful family and friends.
Image Credit: Lifewithhasi.com
Image Reference: https://www.lifewithhasi.com/post/an-experience-that-changed-my-life
What's new at WeRIndia.com