Farmer develops custard apple with more pulp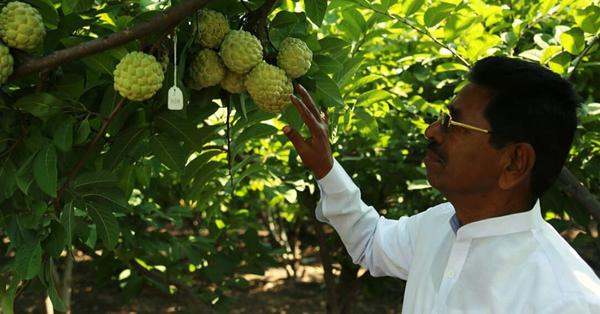 Sitaphal or Custard apple is widely available in this season. Several people like it. However, some people avoid consuming it as it takes time and needs patience. The fruits have more seeds and less pulp.
But this farmer develops a variety of a custard apple with fewer seeds and more pulp.
Navanath Malhari Kaspate of Gormale village in Maharashtra is a farmer. This innovative farmer developed different hybrid varieties of custard apple.
NMK-01, NMK-02, NMK-03, Anona-2 and Finger Prints are some varieties. Of all these, NMK-01 (Golden) has fewer seeds and abundant pulp.
This variety rarely cracks when ripe. NMK-01 (Golden) is accepted by the buyers due to its taste.
Its harvest can also be extended after it ripens. Its yields double every season.
Kaspate grows 42 varieties of custard apple. These are collected from various parts of the world.
Custard apple is a dry land crop and the first two years are vital for its growth.
The crop does not need much water. It can grow with minimal irrigation and can be drip-fed.
As a result, pest attacks are also fewer.
Kaspate initially grew Indian jujube and grapes like many other farmers. But after some years, he decided to grow custard apples in his entire farm.
After some years, he developed NMK-01 (Golden) in 2011. He received a cash prize and was awarded Plant Genome Saviour Farmer Reward.
He sold 30 lakh saplings to thousands of farmers. He earned ₹1 crore from selling the fruit from his nursery.
Several farmers who grow the variety of NMK-01 (Golden) earned lakhs of rupees.
Nandlal Dhakad from Jaisinghpura village, Rajasthan is one among them. He planted 400 saplings in his farm of less than an acre and started earning ₹2-3 lakh per year.
Image Reference: Thebetterindia
What's new at WeRIndia.com