Buy or make these eco-friendly Ganesha idols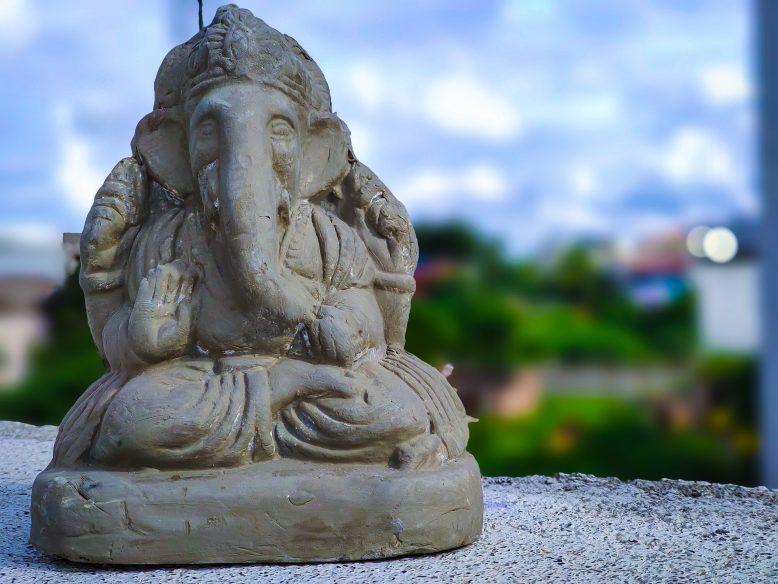 Tomorrow is Ganesh Chaturthi. Many people prefer to use eco-friendly Ganesha idols to celebrate the festival.
Clay Ganesha idols are the most sought idols. They are made of clay and natural mud. They can be easily immersed in water without releasing harmful materials into the environment. You can buy them in the market. Many NGOs and social enterprises are distributing clay idols. Alternatively, you can make them easily at your home. Mix clay and water to make dough. Make different body parts of the idol and join. If you want, you can paint it using natural colors.
Rice flour is another eco-friendly material. It is safe to be used for making a Ganesha idol. Make the dough by mixing rice flour and water. Add some drops of oil to keep it non-sticky. Make body parts. You can use pepper, cardamom, chilli flakes or any other colour items as the eyes and other ornaments of the idol. Or make a turmeric Ganesha. Many videos are available on YouTube on making turmeric Ganesha idols at home.
Paper pulp is another eco-friendly material used for making Lord Ganesha's idol. Make pulp from old newspapers or books. Make a thick paste with all-purpose flour and add this paste to the pulp to make dough. Make the idol and use kitchen spices as eyes and other ornaments. You can coat the idol with natural paints.
You can add some seeds like fruit seeds while making clay dough to make seed Ganesha idol. Or you can buy seed a Ganesha idol available in the market. These plantable Ganesha idols are preferred by many people nowadays.
Some people make idols using activated charcoal and pure clay. These idols can be immersed in water easily after the festival.
Many Do-It-Yourself (DIY) Ganpati Making kits are available now. You can buy and make the idol.
Happy Ganesh Chaturthi!
Image by Deepam from Pixahive (Free for commercial use / CC0 Public Domain)
Image Reference: https://pixahive.com/photo/ganpati/
What's new at WeRIndia.com