Business lessons from this Shoe Doctor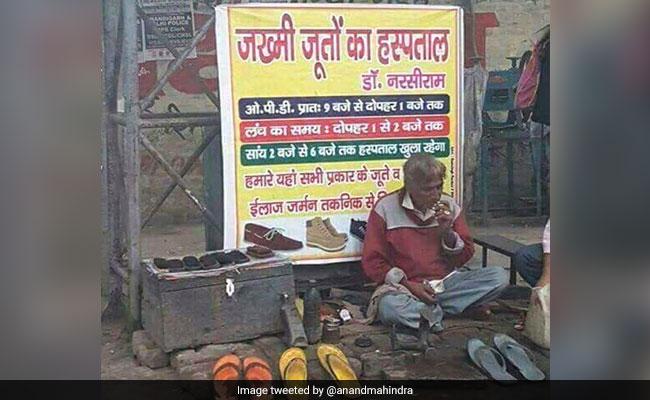 Necessity is the mother of invention. Often, human beings learn certain things out of their need. This is very true in the case of this 'shoe doctor'
Shoe doctor – the name itself may sound weird. Can you imagine who is being called with this term?
His name is Narseeram. He calls his shoe repair shop, 'shoe hospital'.
Normally, business schools will teach you how to market your product, how to sell it profitably, how to grab customers' attention etc. But, this common man who does not have any big education skills learned lessons from the life.
He is repairing shoes and cheppals at the roadside. He put a small board on the pillars near the point where he sits.
On the board he wrote something like this:
He called himself Dr Narseeram on duty and the shoe repair shop as a hospital for 'injured' shoes. He even specified the OPD timings to contact him. Here the shoes are 'patients'. The interesting thing is he even boasted that he uses German techniques for the treatment of these shoes.
Where did Narseeram learn these marketing techniques? Not at IIMs that make the business tycoons, but by himself. The board has caught the attention of nearby people.
Not just that, it even attracted Anand Mahindra. He received this information on his WhatApp. He mentioned about this in his tweet.
He was impressed and expressed his interest to invest some amount in this 'shoe hospital'. He urged the users to let him know more about the person like where he is living and who he is. If the person is still doing this work, he would invest in it to expand it.
One creative idea caught the attention of a business tycoon.
Image Reference: NDTV
What's new at WeRIndia.com