Breast cancer survivor sells bamboo shoot pickle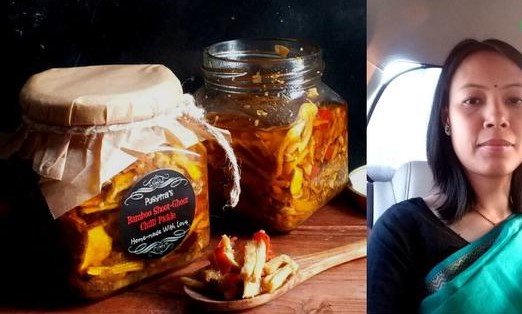 The northeast region is rich in many flavoursome and exotic ingredients. People in this region know their value and importance. These ingredients favour when used in recipes.
This Manipur woman used this opportunity and became an entrepreneur. Pushpita Sinha is passionate about the invaluable resources of the northeast region.
Born in Manipur and raised in Tripura, she married to an Assamese. She wanted to share the flavour of these invaluable ingredients to other parts of the country.
She found that many people who do not have knowledge about the northeast were writing about their food and ingredients.
As they knew very little, they were repeating the information which did not benefit the readers anymore.
Hence, she started a blog in 2014 to share more information about the northeast region. Being a cooking enthusiast, she tries various recipes in her kitchen.
She enjoys pickling seasonal vegetables, bamboo shoots, prawns, and chicken. She sent some of her pickles to her friend (fellow blogger) in Odisha.
Her friend liked her recipes very much and encouraged her to start a business. Besides, she also shared the photos of these recipes on social media. Within a month, Pushpita shipped nearly eight pickle jars.
This improved her confidence. She wanted to sell pickles from home. But, before she ventured into a business, she was diagnosed with advanced breast cancer.
She recovered after a year. After that, she started taking orders for pickles. Within six months, she established Pushpita's Artisanal to sell natural pickles and jams.
Some of her popular pickles are bamboo shoot, Indian jujube, seasonal mango. She also sells pickles made with chicken, fish, and pork.
Later, she started making sauces and preserves with fruits. She has more than 25 products and sells over 50 jars in a month.
She procures the vegetables and fruits directly from farmers. Despite her struggles in life, she succeeded.
Image Reference: Thebetterindia
What's new at WeRIndia.com