Snaqary offers healthy snacks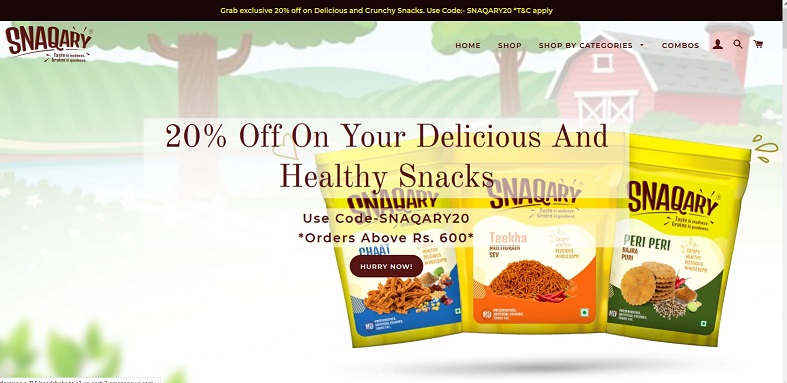 Many snacks are available in the market. However, finding healthy and nutritional snacks is not an easy thing.
Especially many mothers find it difficult to buy healthy snacks for their children. Anchal Abrol and Priya Puri from Mumbai were well aware of this fact.
Being mothers that worry about the health of their children, they felt very difficult to find suitable healthy snacks for their children. So, they decided to offer healthy snacks with traditional ingredients. That's why their nutritional snack brand, Snaqary, was born in 2019.
Anchal and Priya are friends. They wanted to use traditional ingredients and greens in their snacks to promote the health of children. In addition, their snacks do not contain artificial flavours or preservatives. They also assure that their snacks are organic and plant-based ingredients.
Snaqary sells around 35 products. The startup satisfied the taste buds of over 50,000 customers from all over the country within the launch of two years.
Anchal and Priya started curating recipes for their brand to produce them commercially, but it took more than a year. The duo also experimented with various recipes using different types of ingredients. For instance, they offer sev made of multigrain like ragi, lentils etc.
Likewise, they make traditional snacks using healthy ingredients. They also try to replace maida with whole wheat flour. Thus, they use healthy alternatives in their snacks wherever it is possible.
Also, they try to follow healthy cooking methods. For example, rather than frying, they prefer baking. In this way, they try to offer healthy snacks.
They offer a wide range of tasty snacks like roasted, baked, dipped etc. Their products are priced in the range of ₹10 to ₹200.
This Mumbai-based startup expanded its operations to other cities like Delhi, Kolkata, Hyderabad, and Pune. Snaqary's products are available on major e-commerce platforms like Amazon and Big Basket.
Image Credit: Snaqary Website Screenshot
Image Reference: https://www.snaqary.com/
What's new at WeRIndia.com