4-year old genius at Chess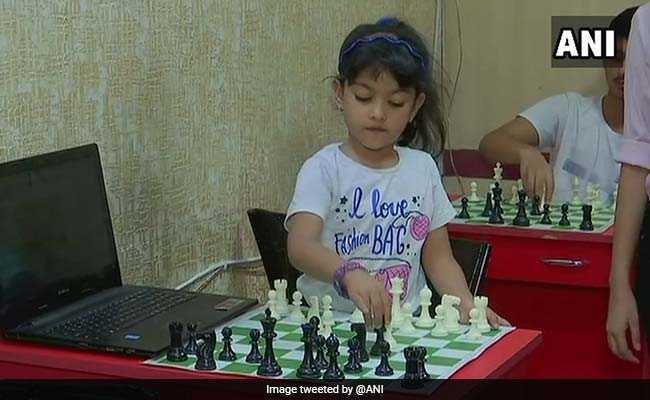 Saanvi Aggarwal is 4 years old and currently studies in kindergarten. However, Saanvi is also an expert at chess. She knows all of the right moves on a chess board.
Saanvi was born in Chandigarh. Her parents taught her how to play chess.
They made her practice chess on their computer. Eventually, Saanvi learned all the levels and started to win them.
In May, she won the title in the U-7 category at the Chandigarh Girls Chess Championship.
Winning this title allowed Saanvi to qualify for the U-5 championship. It also showed that Saanvi has a lot of potential to win more chess titles in the future.
Recently, Saanvi traveled to Karnataka so that she could participate in the 32nd National U-7 Open Girls Chess Championship.
She finished in second place in the Under-5 category. She also qualified for the Asian Youth U-6 Chess Championship.
The Asian Youth U-6 Championship will be held in 2019. Nitin Rathore is Saanvi's coach. Rathore said that Saanvi has the capability to win several Asian titles and World titles in chess competitions in the future. He also said that Saanvi knows all of the attacking moves in chess perfectly.
The United Karnataka Chess Association, under the aegis of the All India Chess Federation, organized the 32nd National U-7 Open Girls Chess Championship.
The Championship was held from July 16th to July 24th in Tumkur, Karnataka.
In June, 12-year-old Praggnanandhaa from Chennai became the world's second-youngest chess grandmaster by winning his third Grand Master.
Praggnanandhaa was short of being the youngest chess grandmaster ever by three months.
This record is held by Ukrainian grandmaster Sergey Karjakin, who achieved this feat in 2002 at the age of 12 years and 7 months.
However, Saanvi's incredible skills at age 4 might allow an Indian to earn this title in the near future.
She is already a chess champion at her young age. If she continues to climb the championship ladder, she may certainly break the record as the world's youngest ever chess grandmaster.
Image Reference: NDTV
What's new at WeRIndia.com