Travelkhana – Real Time Food Delivery for Train Passengers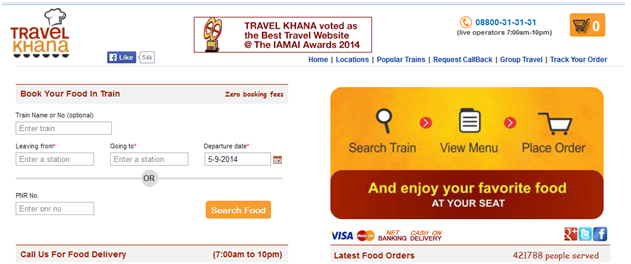 Ever thought that getting high quality food was impossible in a train journey? Here is a new service provided for those travelling in Indian Railways. Travelkhana.com helps passengers of Indian Railways to get the food they want.
It is known by many passengers of the Indian Railways that the food of Indian Railways is not of great quality and many prefer alternate ways for their meals.
With Travelkhana, passengers do not have to worry about this problem. Customers of Travelkhana can order foods in more than 2000 trains. The service offers a wide range of food to the Railway passengers that they can order as per their liking and price point. Travelkhana uses automated platforms which track the trains in real time. The food will be delivered to the passenger as per their choice. The service also helps vendors and restaurants to provide effective and quality service.
Travelkhana is an award winning service which has grown very popular in a short time. The foods available in the service are targeted towards passengers of all ages. From healthy snacks to delicious sweets, a lot of foods are offered by Travelkhana. The service delivers the ordered foods in real time.
Travelkhana has a lot of food partners in various cities which help the service deliver required foods with ease. The three main pillars of the service are: Availability, Flavour, and Hygiene. The service not only provides the food on time but they strive to make sure the food is served in the way customers desire.
What's new at WeRIndia.com