These startups earn $50,000 from WhatsApp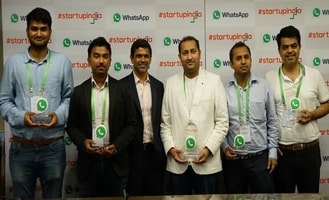 In order to boost Indian startups, both Invest India and WhatsApp joined their hands together last October.
In this context, WhatsApp India organized a grand startup challenge along with Startup India.
Approximately 2,000 startups had participated in this challenge out of which 10 startups were shortlisted.
Among them, five startups were chosen to win the prize of $50,000 each.
The selection was done based on their ability to address real problems faced by the citizens across the country utilizing technology and innovation.
Yesterday WhatsApp handed over cheques of $50,000 to all of these firms.
Read on the article to know about the winning startups in the grand startup challenge.
MedCords is a Kota based startup. It provides reliable and reasonable access to good healthcare services to rural as well as semi-urban areas. The medical records of the patients are digitally managed and complete e-consultations are provided.
Melzo, a Surat-based startup provides virtual reality content at an affordable price on low-end devices. It caters to the needs of more than 140 brands and SMEs across the globe.
Javis is a Mumbai based startup. It is a good platform providing a WhatsApp-based conversational artificial intelligence (AI) so that the right information can be reached to the right people for quick business.
Gramophone, an Indoor-based startup offers agronomy services to farmers throughout the cropping cycle. Thus, the firm assures farmers to reduce their cultivation cost by up to 20 per cent and improve production by over 30 per cent. The startup also has raised a funding of $1 million from InfoEdge.
MinionLabs is a Bengaluru startup. It created an energy device which monitors and evaluates the energy consumption of various devices so that the energy costs can be reduced.
What's new at WeRIndia.com