Shapecrunch – No more painful feet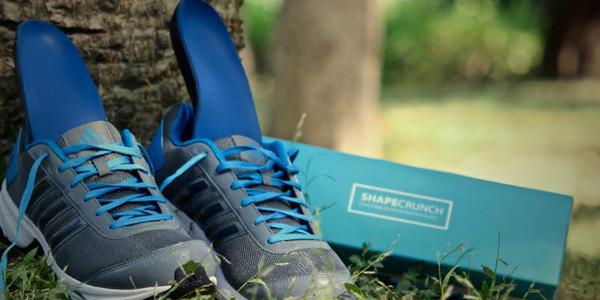 About 20% to 25% of the population of India has mild to severe flat feet, and around 100 million Indians suffer from diabetic foot ulcers.
A third of people age 50 and above have corns, calluses, or bunions on their feet, which worsen the back pains, joint pains, and knee pains that often come with old age.
Nitin Gandhi suffers from flat feet, and he had a difficult time getting a pair of custom orthotics made specifically for his feet.
After being told to get a pair of orthotics by his doctor, he eventually found out that the machines that could make them were extremely expensive, and that only a few people offered the custom orthotics he needed.
At the time, Nitin was working on 3D printing with his friend, Jatin Sharma.
Nitin and Jatin decided to try using 3D printing to make Nitin's insoles.
Surprisingly, it worked very well, and Nitin was able to walk comfortably without having to use expensive imported machines.
Soon after, Nitin and his friends founded Shapecrunch, which uses digitized 3D printing to make custom insoles for people.
Doctors can use the Shapecrunch app to take pictures of a patient's foot, and they can also enter other details about the patient into the app.
Shapecrunch will convert the picture into a 3D model, which is then printed to make a perfect insole for the patient.
Shapecrunch does not only provide custom insoles to people with flat feet, but it also offers insoles to people suffering from other foot problems.
People can put in foot pain areas, foot activity level, shoe size, and shoe type into the Shapecrunch app, which will create 3D-printed insoles according to that data.
Currently, the company is connected with healthcare professionals, which is helping them expand their presence.
Outside of India, Shapecrunch has been receiving orders from the United States and Europe, and they are planning to further expand their presence in the future.
They are also working on other ways to provide orthotics and prosthetics to people suffering from all kinds of foot problems.
Many people suffer from one-foot problem or another, and Shapecrunch strives to address and solve them all.
Image Reference: Yourstory, Linkedin
Recent Posts

The Odisha government stepped ahead to control the

Here is a list of some great events

Kochi Metro launched a special Independence Day offer
What's new at WeRIndia.com