Mumbai's first floating restaurant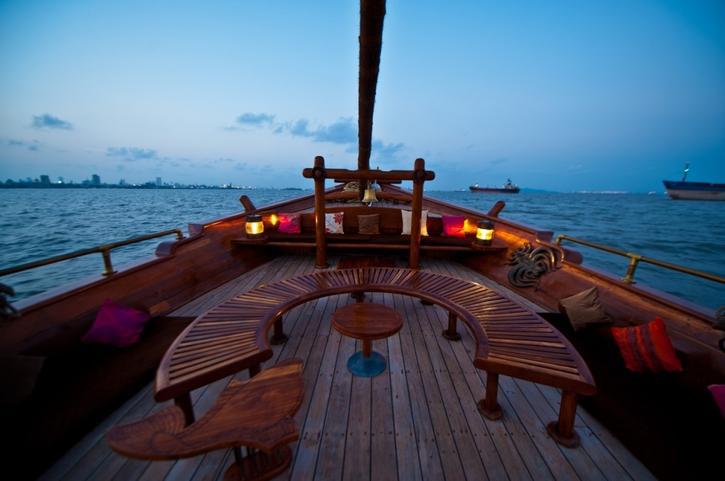 Shripriya Dalima hails from a family of resilient women and strong matriarchs. She and the other children in her family would take to climbing over the gates of her grandmother's house in Mumbai and then going to play on the beach all day.
She lived her whole life with inspiration, both from the members of her family and her passionate love of the sea. Although she mainly grew up in Delhi, she always felt a connection to Mumbai, which strengthened once she began a career in the film industry.
She therefore decided to do something for the city of her child holidays: improve its use of its seaside surroundings. Thus, she has decided to make the first floating restaurant in Mumbai, which will consist of a series of public restaurants aboard several boats.
Dalima decided to improve Mumbai's sea experience because of the contrast she saw between the beautiful glorifications of the city seasides in Europe and America, and the polluted, wasted seaside of Mumbai.
She went to the government of Mumbai with her idea and was surprised when they fully accepted and agreed to support it. She was given the permission to own several restaurants on a sea and even operate a cruise ship.
The project is not completely finished, and it will only be public by around January of next year. However, the process of getting all the required approvals and grants has been surprisingly efficient in Dalima's eyes.
Currently, Dalima is in the process of acquiring the multi-deck boats upon which she will place her restaurants, complete with decks that will have a complete view of Mumbai's breathtaking skyline.
The rules for restaurant owning will be safe and authentic; owning a casino is forbidden on Dalima's boats, as are overnight stays.
She hopes that these boats will give the people of Mumbai a new way to appreciate the city they love: enjoying it on the sea.
Image Reference: PolkaCafe, YourStory
Recent Posts

Henna is one of the most widely used

Yashna, a seven-year-old girl from Medchal Malkajgiri, Telangana,

Pradeep Kumar from Haryana offers solar panels on
What's new at WeRIndia.com