Letscycle – A bike sharing startup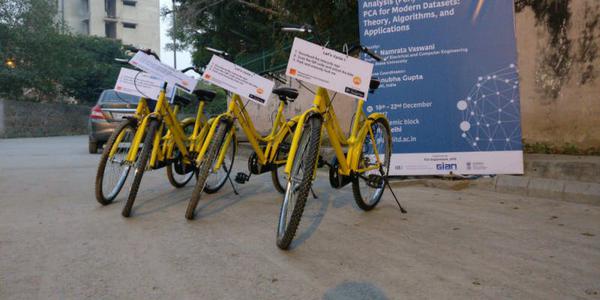 In Indian cities, it is often a difficult task to get from place to place quickly. Most modes of transport, such as cars and trains, can't always travel on the most efficient routes.
Overall, bicycles seem to be the best mode of transport for cities.
They can be ridden through almost all routes and riding them is still far faster than walking.
However, despite these benefits, there is little incentive for people to choose a bike over all their other transportation options.
Vansh Taneja, a 24-year-old college dropout, had been trying to start up a few companies beforehand.
He then realized the potential in incentivizing city bicycles and making them more available for people to use.
Realizing the potential in creating an available network of city bicycles, Vansh started LetsCycle with his three co-founders, Harshvardhan Singh, Ankit Vaishnav, and Tarun Chugh.
LetsCycle is a startup based in Delhi-NCR, which provides its users with a dockless bike-sharing system.
People can pick up a bicycle from any location and drop it off at any other location. Every bicycle has its own QR code and cycle number.
When a user wants to pick up a bike, he or she will receive an unlock code through the LetsCycle app.
He or she can unlock the bicycle with this code and ride it to any location.
After a user drops off a bicycle, he or she must lock it back up. Then, the bike is available for other people to unlock and ride.
Currently, LetsCycle is the only fully dockless bike-sharing startup in the country that does not have GPS (Global Positioning System) locks.
The startup is focusing on educating their users, explaining the benefits of choosing bikes over other modes of transportation.
LetsCycle is also working on expanding by launching more bicycles in Delhi, Bengaluru, and Chandigarh.
Thanks to LetsCycle's efforts, the efficient transportation of bicycles can be used by anyone in a seamless system of bike-sharing.
Image Reference: Yourstory
What's new at WeRIndia.com