Homefoodi – A good platform for home chefs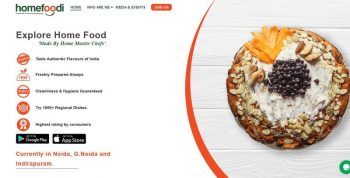 Home-cooked food is good for your health. However, due to lack of time and experience in the cooking of different varieties of food items, many people prefer eating outside.
Now, due to COVID-19, eating outside has dropped to some extent. However, many people are willing to try a quality food if it is available.
Home-cooked food is a good option for such people. There are many such startups in the country.
Homefoodi is also one such startup. It is a Noida-based startup.
Dr Mona Dahiya, the co-founder of Homefoodi aims to empower home chefs while providing quality food to foodies.
She claims that Homefoodi is the first mobile application in the country for homemade food prepared by home chefs.
Dr Mona Dahiya, an IVF Super Specialist, helps women providing employment and empowers them by providing opportunities.
A research conducted in metro cities indicated that many homemakers were interested in starting a home kitchen if they had a proper platform. At the same time, several consumers prefer homemade food on eating outside. Almost all of them believe that home-cooked food is hygienic and healthy.
Based on the research, Mona Dahiya started Homefoodi along with her husband, Narendra Singh Dahiya.
Homefoodi partners with home chefs who have a passion for cooking delicious food with quality. Before approving home chefs, a team from Homefoodi visits their home to check the quality of food and cleanliness of the kitchen along with packaging standards. If they meet with the quality standards, then Homefoodi will enter into an agreement with home chefs. All their home chefs are FSSAI-certified.
Homefoodi provides support home chefs in marketing, delivery, packaging, and other related things. The app is available on Google Play Store and iOS.
Homefoodi has more than 150 home chefs from Noida.
Home chefs are earning from ₹30,000 to ₹50,000 per month. Some chefs are earning more than one lakh rupees per month.
Image Credit: Homefoodi Website Screenshot
Image Reference: https://www.homefoodi.com/ 
What's new at WeRIndia.com