Maa Ka Dulaar offers homemade food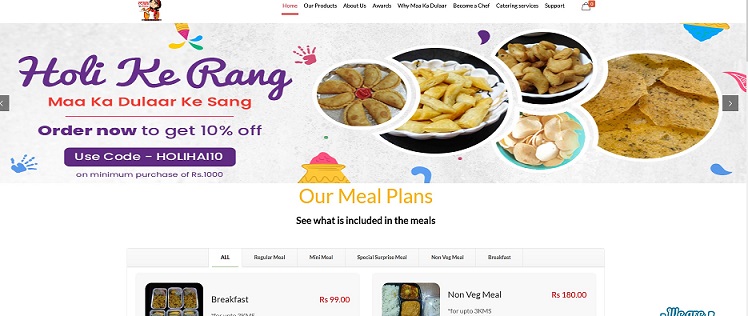 In the realm of food-tech startups, Maa ka Dulaar stands out by offering a unique concept that satisfies cravings for homemade meals prepared with a mother's love while prioritizing health and hygiene.
This innovative startup connects passionate mothers in Bangalore and Aligarh in UP who possess a flair for cooking.
With Maa Ka Dulaar, individuals can now conveniently order delicious home-cooked food from anywhere in Bangalore and UP.
More than just a startup providing home-cooked meals, Maa Ka Dulaar is also empowering women. Thus, it has impressed many.
As the name suggests, Maa Ka Dulaar exclusively collaborates with Mom-Chefs, providing them with a platform to showcase their culinary skills and achieve independence.
These talented Mom-Chefs prepare food in a healthy and hygienic manner.
Since its launch, Maa Ka Dulaar has attracted over 20 dedicated chefs and garnered more than 100 subscribers in Bangalore and UP.
Looking ahead, the startup aims to amass a subscriber base of over 1,000 in the next 18-24 months.
Additionally, Maa Ka Dulaar has introduced two user-friendly apps catering to both home chefs and customers.
The company also offers nationwide delivery of homemade snacks, sweets, and corporate Diwali hampers that are prepared with love by dedicated moms.
Shekhar Mitta serves as the Founder and CEO of Maa ka Dulaar.
Maa ka Dulaar provides a convenient platform that connects Indian mothers with individuals in need of food services.
To place an order, customers can register on the MKD Customer App and log in.
Once logged in, they gain access to nearby kitchens and menus prepared by talented chefs daily.
Customers have the freedom to choose their preferences and schedule orders according to their convenience.
Once an order is scheduled, the respective kitchen receives a notification through the MKD Chef App.
The kitchen then has the option to accept or reject the order. Upon acceptance, the preparation process begins.
The food is meticulously crafted by skilled women who excel in preparing delicious and nutritious meals. They are paid on a per-meal basis.
Image Credit: Maakadulaar Website Screenshot
Image Reference: https://maakadulaar.com/
What's new at WeRIndia.com