HealthifyMe – Mobile Weight loss Coach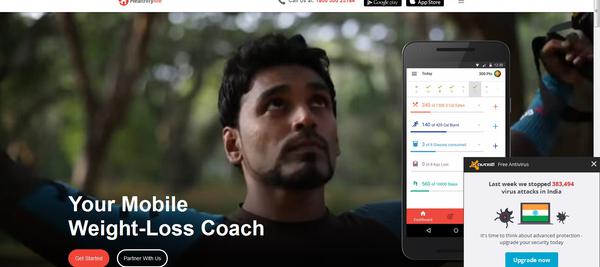 HealthifyMe is a free app which lets users keep track of their workouts and weight loss plan. The app was co-founded by Tushar Vashisht, Sachin Shenoy and Mathew Cherian in 2012.
It is part of the Microsoft Ventures incubated startup. Using the app, users can find out how many calories they have burned. They can also set personal fitness goals and measure their progress. The app also has the feature to sync with all the leading wearables like Fitbit, YuFit and MiBand. They also have their own fitness band called RIST.
Using the app, users can track more than 10,000 Indian foods; 1,000 exercises. Based on their diet and exercise, users can track the intake of calories and how much they are burning. The app provides users with real-time insights & automated analytics on their health. Users can also get access to expert advice from India's top coaches.
HealthifyMe has also collaborated with Manipal Hospitals and they were able to monitor and manage patients' diet, weight and deliver counselling digitally. This collaborative program is integrated with preventive health check programs. It is useful for better management of non-communicable or lifestyle diseases.
The app can help users keep a tab on their lifestyle by logging food, activity, water, weight and steps on a daily basis. The app also has a smart digital coach which gives users ideas about what to do. This helps one maintain their weight loss program even if the user is not sure about what route to take. One can access historic data, macro-nutrients breakdown and daily insights on one's calorie budgets.
Users can also meet with group of like-minded health enthusiasts across India. They can discuss, share and motivate each other on your journey to weight loss.
There are three models available in the app. They are: premium subscription model (starts at Rs.800 per month), corporate wellness and healthcare programmes.
Image Reference: Healthifyme.com
What's new at WeRIndia.com