GingerCup – using tea cups for advertising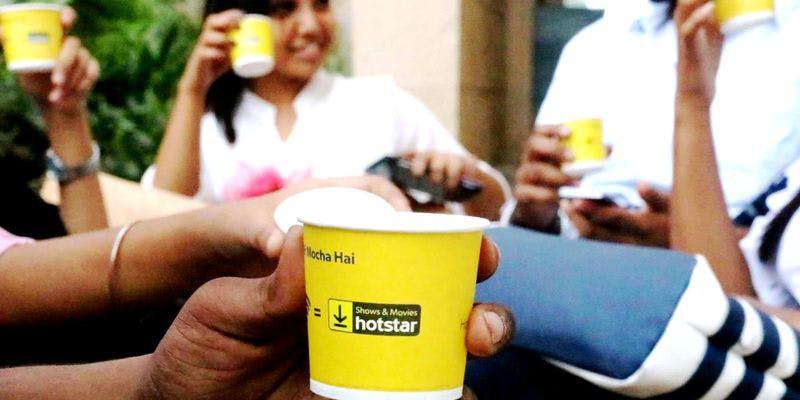 In most of the world, when people buy drinks, they see advertisements plastered all over the cups, from the logos of beverage-making corporations to movie ads to website ads.
However, until a couple years ago, this form of advertising was virtually unknown in India.
In 2015, Deepak Bansal took a tea break during work, where he noticed people drinking tea out of plain white paper cups while excitedly talking about things to distract them from their jobs, such as sports and entertainment.
Deepak realized the opportunity to be found in paper cup advertising, since people are eager to talk about something other than their work, and finding bright logos on their cups could spark an engaging conversation.
Deepak and his wife, Devleena, researched the success of paper cup advertising around the world, and found that it could be even more successful than television advertisements.
In Deepak and Devleena's first experiment with branded tea cups, which they placed in local offices, college campuses, and tea shops, Deepak and Devleena found that 86% of people identified the brand logos on the cups, and 70% to 75% of people could also remember the communication that was displayed.
The couple knew that they had a successful idea in store, and they decided to take it further. Soon after, the couple founded GingerCup, a startup dedicated to spreading advertisements on paper cups.
Today, GingerCup does out-of-home campaigns for companies across several sectors, from Uber to Volkswagen to Bookmyshow.
They even did a major pan-India campaign with Baahubali. Paper cup advertising is currently a small percentage of the out-of-home industry, but it is steadily growing.
For now, GingerCup's only competitors are some local players, but Deepak expects that big agencies will soon pick up on paper cup advertising and give them more competition.
In the future, however, GingerCup's success is sure to grow, since people are always eager to talk about the bright, colorful advertisements that they see while sipping their tea.
Image Reference: Yourstory
What's new at WeRIndia.com