Bhanzu aims to eliminate math phobia in children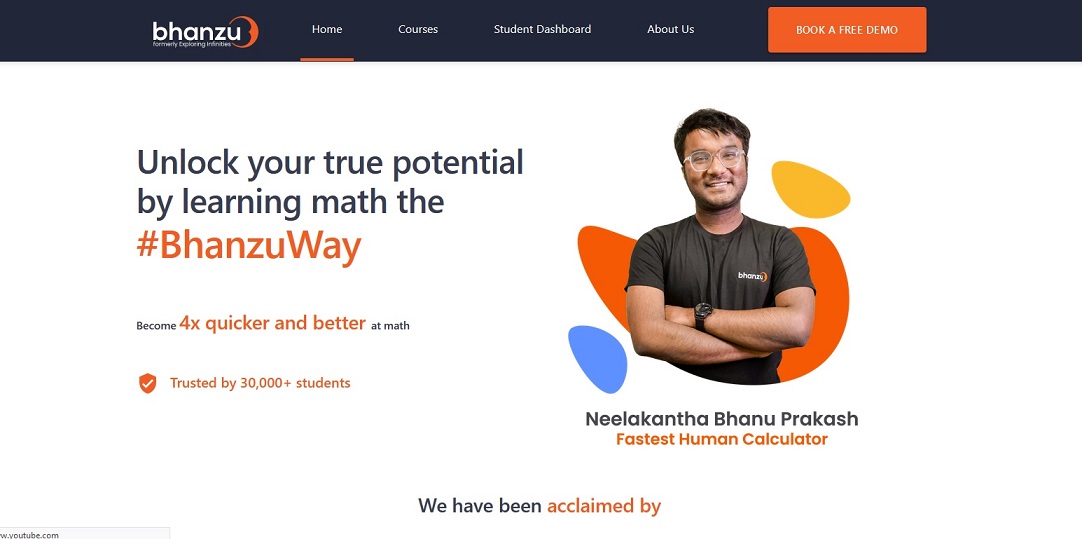 Mathematics is a scoring subject. Hence, it is a favourite subject for many children. At the same time, due to its difficulty, many children have a fear of learning mathematics.
To eliminate the fear of mathematics in children, this man launched an online platform, Bhanzu.
Neelakantha Bhanu Prakash is well-known as the World's Fastest Human Calculator. He realised that several children were troubled with mathematics. So, he launched Bhanzu in November 2020.
Mathematics is Bhanu's favourite subject. His parents encouraged him to learn mathematics through puzzles. His constant practice in doing mathematical problems made him perfect at solving any problem faster.
He used to participate in Speed Maths contests also. Though he did not win all of them, he improved his skills.
As a result, he became so perfect that he could solve all types of math problems. Besides, he bagged many titles. He bagged the title of India's fastest human calculator at the age of 13 years and the world's fastest human calculator at 15. He broke the world records of human computers like Shakuntala Devi and Scott Flansburg.
In addition to that, he broke some World Records and 50 Limca Book Records in various categories.
Achieving the world record created many opportunities for Bhanu. He visited many countries and observed that mathematics was a daunting subject to several children. That's why he came up with a solution, Bhanzu.
Bhanzu aims to eliminate math phobia in children aged 5-16 years. This online portal offers experiential maths learning courses for them. It helps children learn mathematics funnily and interestingly.
This Hyderabad-based ed-tech startup served more than 30,000 students and parents. The course prices of Bhanzu range between ₹14,999 and ₹64,999.
Apart from India, the startup also operates in the Middle East and South-East Asian countries. It wishes to expand to other countries soon.
Image Credit: Bhanzu Website Screenshot
Image Reference: https://bhanzu.com/
What's new at WeRIndia.com