Meet the ex-teacher who builds a business empire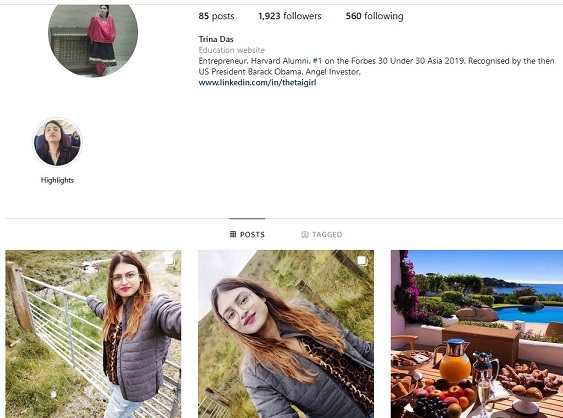 Though many people wish to become entrepreneurs, only a few of them succeed. Here is a young woman who has built her business empire.
Trina Das from Kolkata not just wanted to become an entrepreneur but wished to impact society as well. Her father is a businessman. He used to teach underprivileged children.
Trina is an engineering graduate. She has a sister who runs a media house. Inspired by her father, Trina also wanted to start her own venture. She realized that many children have doubts in mathematics, physics, chemistry etc. Even many children asked her to teach these subjects.
Hence, Trina started teaching classes to clear doubts in mathematics and science during weekends. For this, she decided to charge a nominal fee of ₹400. Trina opened a coaching centre to teach weekend classes with 16 students. But within a year, she had more than 1800 students. She hired a few teachers to teach all these students.
The number of students had grown for some years. So, Trina started opening more coaching institutes. She chose a franchise model. As a result, her income grew. It was more than ₹10 lakhs per month.
Trina had many coaching centres in eight countries. The turnover of these centres was ₹5 crores in 2015. She earned decent money as well as won several accolades for her work.
Trina also received a grant from the then US President Barack Obama. Later, she sold the business.
In 2017, Trina launched another startup along with two co-founders. It is an HR recruitment firm that helps recruit workers for companies. The company had a turnover of ₹20 crores before the lockdown.
Many workers lost their jobs due to the pandemic. After the pandemic, they started focusing on blue-collar jobs, like delivery boys, security workers, office workers etc. So far, her company has helped around 6000 workers. Now, the company has a turnover of ₹102 crores.
Image Credit: Trina Instagram Page Screenshot
Image Reference: https://www.instagram.com/trina.tai/?hl=en
What's new at WeRIndia.com