Waterless body wash and Shampoo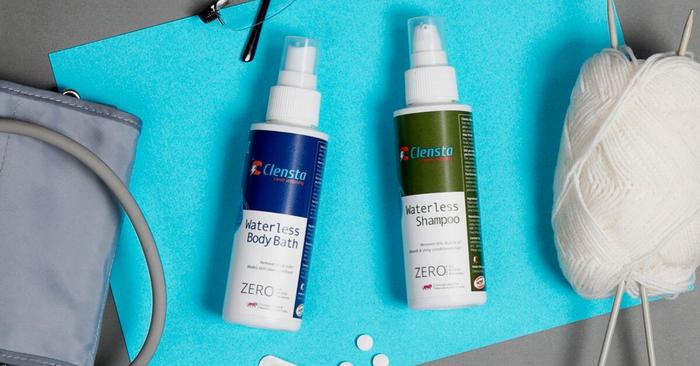 Have you ever heard of waterless body wash and shampoo? Can you imagine that one can clean the body without water?
Dr Puneet Gupta, an alumnus of IIM Calcutta made this possible with his innovative products.
Normally people find it difficult to do a bath while doing trekking. They can't clean their body and hair as they don't find adequate water. As a result, personal hygiene is hard to maintain in extreme weather conditions.
To solve their problem and help them to be free of pollutants and dirt, Dr Puneet developed waterless hygiene products.
These waterless body wash and shampoo are available for just ₹499 and ₹549.
With Clensta products one can easily get rid of dirt without using water.
Just spray the body wash on your palms and massage the skin gently. Then wipe it off with a clean towel or tissue paper.
You can even spray the body wash directly on your body and wipe it off.
Pour a small amount of shampoo gel on your palms. Rub and apply it to your scalp and hair. Massage gently and pat dry with a towel for clean hair.
Clensta products are unique and do not contain alcohol, SLS (Sodium Lauryl Sulfate), gluten or paraben.
Both the body wash and shampoo come in handy bottles to be carried easily to places of water scarcity and extreme temperatures.
They are ideal for travelers as well as people with limited mobility.
The body wash and shampoo are dermatologically tested. Moreover, they are patent protected in many countries across the world.
They do not dry your skin as they have natural pH balancing properties.
They do not need any water and can save several litres of water. A 100ml bottle can save up to 350 litres of water.
They remove dirt from your skin and eliminate body odor so that you feel fresh and clean.
Image Reference: Thebetterindia
What's new at WeRIndia.com