This washing machine does not need electricity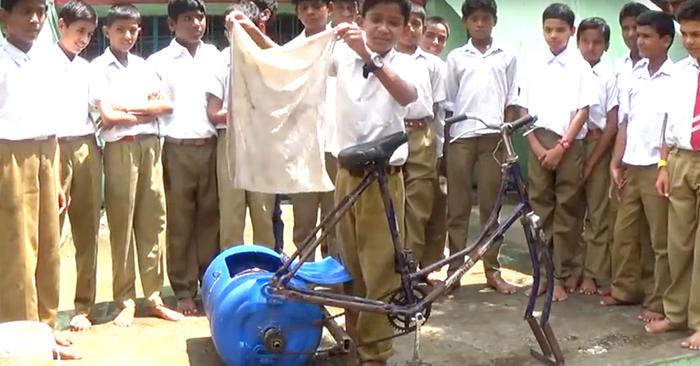 Washing machine is one of the most common household items now-a-days.
However, it is a dream to several underprivileged people as more than 300 million homes are still living without electricity. Many poor and below middle class people cannot afford it due to their prices and usage of electricity.
In order to bring this appliance to common people, a student of class 8 designed a washing machine that works without electricity.
Age is not a criterion for innovation. This 12-year old boy proved it.
The boy's name is Darshan Kolhe. He is studying in Government LBS Boys Middle School, Pandhurna, Madhya Pradesh.
He made this washing machine with an old cycle and a recycled barrel.
You just push the pedals to start the washing machine. In other words, you have to cycle manually to wash the clothes.
It works with the help of a cycle chain that is hooked up to grill mesh container that rotates along with the chain.
The barrel is loaded with water and soap and this mesh container sits inside it.
The clothes are loaded inside the mesh. It is spun with the loaded soapy water in the barrel.
Like all other washing machines, this machine also has a drying option.
For drying, the barrel has to be emptied and allow the mesh to spin openly.
Then, the excess water will be removed from the clothes which perfectly completes a wash cycle like other washing machines.
Darshan demonstrated his washing machine at the National Level Inspire Award competition at IIT Delhi. His innovation was nominated to be exhibited at international portals.
This washing machine won't take up much cost to be established. Since, it works with cycling which is both fun and healthy.
Image Reference: Thebetterindia
What's new at WeRIndia.com