These nozzles help reduce water wastage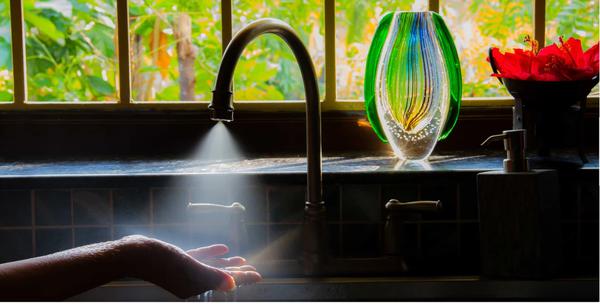 As Chennai is facing acute water crisis, several people are exploring ways to save water.
There are several ways to address the water wastage issue. Building rainwater harvesting systems, fixing leaky taps in the home and using a bucket instead of a shower are some of them.
In this regard, a team of Madras Institute of Technology (MIT) engineering graduates built two types of nozzles for the taps to reduce water wastage up to 95 per cent.
They founded a startup Earth Fokus through which they sell these devices.
These nozzles use atomization technology and release water in the form of a mist-like spray. Thus, they can cut down water flow from 12 litres to 600 millilitres a minute.
That means around 35 litres of water a day can be saved by fixing these nozzles to your taps in kitchen or bathrooms.
These nozzles are completely made out of brass for better quality. In most parts of the country, hard water is available and the founders wanted their nozzles to sustain even hard water for a long time.
These nozzles are the accidental outcome as per Arun, the founder of the company. While he was studying in the college, his neighbor wanted a better water-saving device for her kitchen than the products available in the market.
Then, Arun developed a product with atomization technology which saves more than 95 per cent of the water based on the pressure of the released water.
The nozzle atomizes water into fine gentle mist. If the water pressure is more than 1 bar, then you can save up to 98 per cent of water. On the other hand, if the pressure is between 2 and 3 bars, you can save 95 to 97 per cent of water.
As per the United Nations, a single hand wash needs 600 mil of water which means 350 ml of wastage. But, with the use of these nozzles, a hand wash requires just 15 to 20 ml of water. These nozzles are available in two variants for ₹550 and ₹660 per piece.
Image Reference: Thebetterindia
What's new at WeRIndia.com