Tender Coconut Breaker and Instant Cooler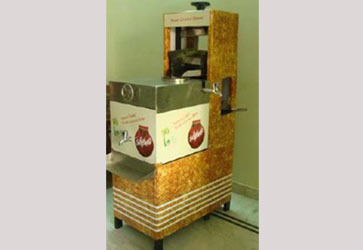 Tender coconut breaker and instant cooler is an innovative idea of Vinod Mahadeviah aiming to provide tender coconut water to middle class with ease.
To the Indian middle class population, Tender coconut is not easily available. The most important reason for this is because of the fact that Tender coconut sales are unorganized and the sales points are not accessible to the middle class easily. The Tender coconut has a lot of potential to turn the consumers of carbonated drinks to coconut drink. But this can be done only ifit is made available at the right locations which are not being covered at present by the Tender coconut vendors.
The ex-factory price including package is INR 50,000. Taxes and transportation costs are extra.The idea behind the machine is to easily break a tender coconut and draw out its water instantly. The machine is aimed at reducing the human efforts involved in breaking a coconut. The tender coconut breaking and instant cooling machine has a customized cutter for breaking the coconut. The coconut can be easily broken and once the coconut gets broken, the water goes into the water cooler through the tray which cools it instantly.
What's new at WeRIndia.com