SwiftChill cools your beverages instantly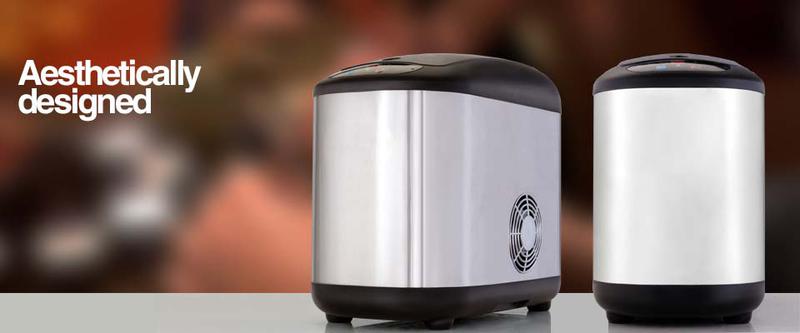 SwiftChill is an innovative beverage chiller that cools your beverages instantly and that too without ice.
SwiftChill is a product of Mumbai based startup, Comfort products private limited. It was founded by Ashwin Shetty & Ashok Shetty.
They said that the intention behind making such type of innovative products is to make life comfortable for users who use them.
SwiftChill has a self-refrigeration system hence it does not need ice. It needs only water.
It has a free size tray which can accommodate a one litre bottle or two 500ml or three 330ml cans at a time.
It is energy efficient. Unlike normal refrigerators where users need to store the beverage bottles for cooling, there is no need to stock up the bottles prior to use.
They can be cooled instantly whenever they need to drink, so there will be no extra energy consumption.
Different drinks are to be consumed at different temperatures. No appliance in the market can deliver products in different temperatures instantly as of now.
But, with SwiftChill it is possible, says the founders. For instance, the optimum temperature for red wine is 3 minutes of cooling and for white wine it is 5 minutes.
The Chiller has in-built safety technology. Moreover, it is user-friendly.
The technology detects the water level and senses temperature.
Multiple bottles can be chilled instantly and quickly one by one. Since it comes handy and in portable size, you can carry it to your desired place.
It can be used at homes where there are beverage lovers. It can also be used at restaurants to provide hassle-free chilled drinks.
SwiftChill is perfect to use at barbecues and parties. It weighs around 12.5 kg. It will soon be available in the Indian markets.
The price ranges from ₹7,500 to 10,000.
Image Reference: Swiftchill.in
Recent Posts

Amla Magic: 8 Ways Indian gooseberry transforms your hair

Here are 8 effective ways to incorporate Amla into your hair care routine.

BJP's Ishwar Sahu, a riot victim, triumphs in Chhattisgarh's Saja constituency

During the election campaign, Ishwar Sahu did not shy away from addressing the tragic events.

Bhopal's Sankat Mochan Hanuman temple dresses Gods in warm attire

In a unique and heartwarming gesture, the Sankat Mochan Hanuman Temple in Bhopal, Madhya Pradesh, has adorned idols of gods, including Lord Hanuman, Lord Ganesh, and Lord Shiva, with warm clothes to shield them from the cold winter air. A video capturing this thoughtful act shows the deities donning shawls and cozy attire inside the temple, reflecting a blend of spirituality and seasonal care.
What's new at WeRIndia.com