SquatEase helps use Indian toilet easily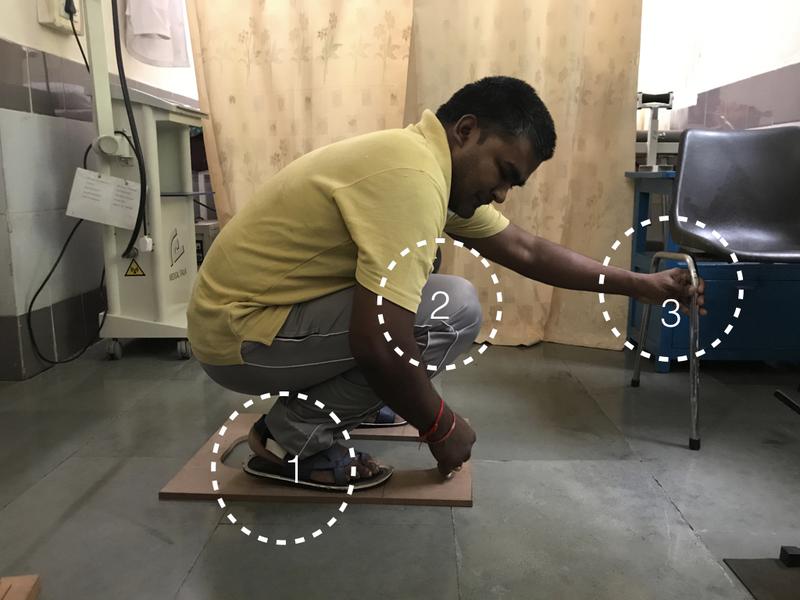 Indian toilets though are easy for squatting position, several people with back and knee pains feel it is difficult to use.
Especially elderly people are unable to use them when they are suffering from pain. At the same time, not all people are in a position to use western toilets due to several reasons.
In this context, a 26-year old decided to something about this problem.
Satyajit Mittal, a design student of MIT Institute of design in Pune observed a flaw in the Indian-style toilets.
If you raise your heels and transfer your body weight onto your toes, then this may not strain your knees.
On the other hand, if you place your heels back on the floor, then it puts strain and pressure on your knees and back. That's the flaw of Indian-style toilets.
For this very reason, joint pains are quite common for those using Indian toilets.
Satyjit designed a toilet to ease the strain on back. It is SquatEase.
SquatEase eases squatting. Since it is unidirectional, cleaning this toilet is also simple with minimal water.
Satyajit designed this toilet prototype considering the issues of health, cleaning and maintenance, comfort and accessibility.
He said that at present, the users of Indian toilets balance their weight on toes with their heels up due to difficulty in squatting.
That's why risk of falling and wastage of water is more. At the same time, hygiene is very poor.
He designed SquatEase toilet in 2016 and won the grant from the Government of India.
His prototype has been tested by some people by squatting on their toes.
After that, his product went to test at Command Hospital, Pune in the orthopedic ward by the patients with knee problems.
After getting positive response from them, he established a company with the help of World Toilet Organisation, Singapore in 2018.
The sales started from last October. The product is priced at ₹999. Within 3 months, he could sell 6,000 units.
Image Reference: Thebetterindia
What's new at WeRIndia.com