Special Ganesh immersion tanks to stop pollution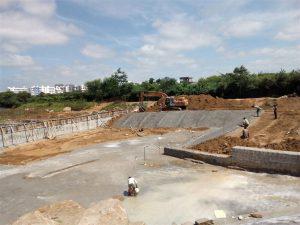 Ganesh Chaturthi (or Ganesh Chavithi, as it is called in Telangana and Andhra Pradesh) is one of the biggest Indian festivals of the year. In Hyderabad, the celebration of this festival is particularly spectacular.
There are several locations throughout the city where an idol of a god is placed to look upon his followers with benediction. The idol is later immersed in water, complete with a performed ritual.
However, Hyderabad has been making some changes to the setup of the festival, in order to ensure that the immersion water is clean.
This year, fifteen immersion tanks have been added to the ten that were made last year, making it a total of twenty-five tanks.
These immersion tanks were created by Madhulika S. Choudhary, an anti-pollution activist from Dhruvansh.
Last year, when she observed the thousands of dead fish in Neknampur Lake, all killed by the pollutants in the water, she and her team set to work to clean up the lake and restore its life.
This year, Choudhary decided to plan ahead, and she teamed up with several organizations to build an immersion tank for the lake. The tank is used to pump in fresh water from adjoining water bodies and pump out the polluted water in the lake.
Although the Neknampur Lake immersion tank is one of the biggest in the city, there are now many other immersion tanks for the other lakes in the area. There are immersion tanks at Oora Cheruvu, Vennela Cheruvu, and Saki Cheruvu, among many more.
Choudhary says that if the water is too dirty for the idol immerse to step in, then it is certainly not worthy to put a divine idol in such polluted water.
Therefore, this year, everyone in Hyderabad will be able to have a clean and enjoyable celebration of Ganesh Chaturthi.
Image Reference: TheBetterIndia
What's new at WeRIndia.com