Simple machine for clean water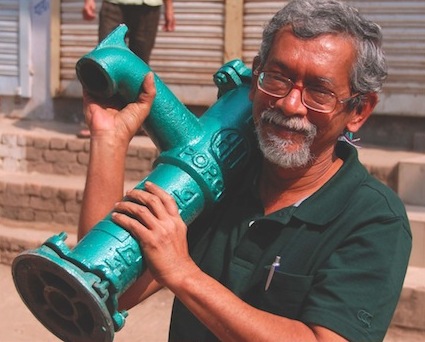 Suprio Das, a scientist has created a simple and affordable device to fight water contamination and provide clean water. The device does not need electricity or moving gears and runs on the principle of gravity.
Das says that innovation and its usage have become inversely proportionate today. He says that about 90 percent of the leading designs are made only for 10 percent of people, the ones who can afford the benefit of them.
He wanted to make something that will make pure drinking water, a basic necessity, affordable and accessible to common man.
The machine ZIMBA automatically adds chlorine to the water in the right proportions says Das. This device can be fitted to an already existing water source like the hand pump or a well.
He wanted to make it durable and hence made it with zero moving parts. As electricity is expensive in rural areas, it doesn't even run with electricity. So far, five areas of Bangladesh have used ZIMBA. Das is in the process of choosing a few villages in North to install his product. The International Centre for Diarrhoeal Disease Research of Bangladesh, and a team from Standford University are now conducting research to see if ZIMBA would generate bacteria or arsenic free water.
Image Reference: Thebettterindia
What's new at WeRIndia.com