Radiant School – An Unofficial Learning Center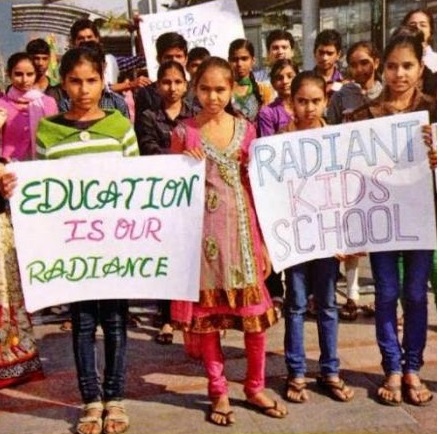 Knowledge is more important than any other resource for the mind. A person with knowledge can grow to change the world. This is what prompted Apnarnaa to come up with the idea of non-formal education center called the Radiant school. The school was started in Gurgaon for kids from economically weaker sections. These children do not have proper access to basic needs like food and clothing, let alone education.
Believing that the power of knowledge can change these people, Apnarnaa started this school for them.
She came up with this idea for a school after a visiting Jharsa village. The school was setup in the year 2012 by Eco Lib foundation, an NGO. At present, the school caters the needs of around 120 children. The school was single handled by Apnarnaa Laxmi for two years. She has divided her students into four groups "Blinking, Twinkling, Glowing, Shining" are the names of those groups. The groups are formed based on the age and skills of the children she stated.
The children at the school are taught English, Maths, and Computer Skills along with other skills such as arts, crafts, yoga and karate. The school has full time teachers and it operates from 3pm to 6pm.
What's new at WeRIndia.com