Sahasra Dabbawala offers dabbas in Karimnagar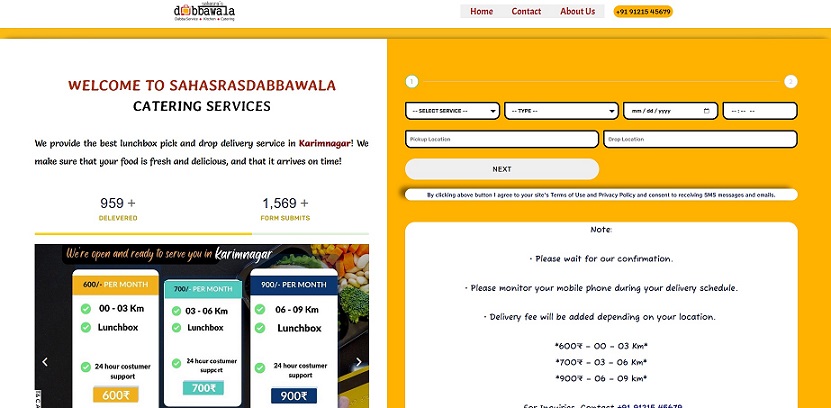 Dabbawala service is popular in Mumbai. Inspired by them, a man from Telangana launched a similar service for school children and employees.
Recently, Pendyala Saikrishna Reddy from Karimnagar, Telangana, started the Sahasra Dabbawala service for students. The startup started the service with four delivery boys.
At present, the startup is delivering lunchboxes to 32 school students. Besides, it delivers boxes to employees also in various offices in Karimnagar.
The services of Sahasra Dabbawala are available within a 10-kilometre radius in Karimnagar. Customers need to pay a certain amount per month. The startup charges ₹600 for three km, ₹700 between three and six km, and ₹900 beyond six km but less than nine km.
Saikrishna says that he launched the service to offer school children fresh food. Many women are facing trouble preparing breakfast and lunch early in the morning for their children. So, the idea of dabbawala came to his mind to solve their problem, and he launched the service.
Sahasra Dabbawala's delivery boys collect lunch boxes from homes and deliver them to school children and employees. They deliver the lunch boxes on time.
Sahasra Dabbawala reached many customers in the area through mouth-publicity. The service started with four customers. But now, the number increased to 50 within one month. Mainly employees, bachelors, and parents of school children are using the startup's services.
Many homemakers and bachelors have expressed their happiness and satisfaction with the service. They say that they are getting fresh food.
Saikrishna aims to reach more customers in the future. He also has bigger business plans. He wishes to start a catering service and wants to expand it to other towns as well.
Many people from neighbouring areas are requesting him to launch a similar service in their areas. They approached him for a franchise also.
The startup developed a modern kitchen to supply lunch boxes to many people.
Image Credit: Sahasradabbawala Website Screenshot
Image Reference: https://sahasrasdabbawala.com/
What's new at WeRIndia.com