ModRoof – cheap and safe roof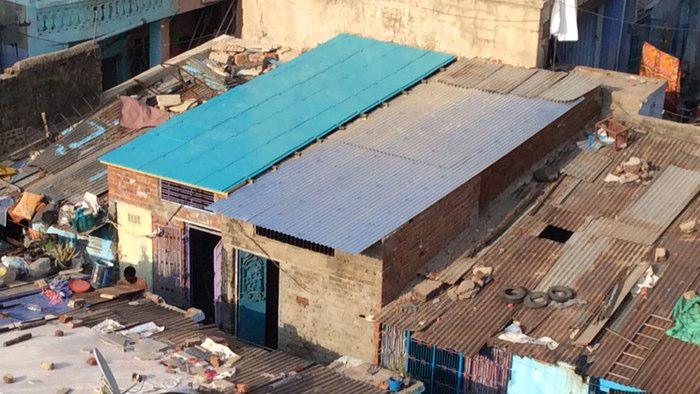 It is a common sight for many to see metal and concrete corrugate roofs. They are quite cheap to make which makes many people use them. However, they are not very good at protecting the home. These corrugate roofs are very bad insulators and can contain dangerous substances like asbestos.
In order to solve the problems in these roofs, ReMaterials has come up with a better solution. It is their sustainable modular roofing system called ModRoof.
The panels of ModRoof's panels are made in Ahmedabad using locally-sourced recycled agricultural and packaging waste like cardboard and coconut fibers. The process for making the roof panels is quite simple says Hasit Ganatra, the leader of ReMaterials who is working together engineering expert Lisa von Rabenau and 9 other local staff.
The process involves a crushing stage, a mixing stage, then a compression stage, drying stage and waterproofing stage"
These panels are waterproof, fire-resistant, and they are also quiet when it rains. The panels are made to interlock before having a sealant applied. They have a calculated R-Value of 0.28 Km2/W.
When the ModRoofs were tested on a hot summer day, the inside of a house with a metal roof had a temperature of 42 C while a house equipped with ModRoof had a temperature of 36 C.
ModRoof has a lot of potential in the market. However, getting it to low income families can be a little tricky. In order to do so, ReMaterials has partnered up with micro finance firms which let customers quickly buy roofs.
According to these firms, the ModRoofs will be around 4 to 7 times cheaper than regular solid concrete roofing (not the cheaper corrugated type). The ModRoofs also have another advantage over traditional corrugated roofs. They are also expected to have a lifespan of more than 20 years needing barely any maintenance.
Image Reference: Gizmag
Recent Posts

The government rolled out the ONDC initiative in

The function of the salivary gland is impaired

Shubham Saini runs a tea stall named Frustrated
What's new at WeRIndia.com