Maharashtra schoolboy designs PPH Cup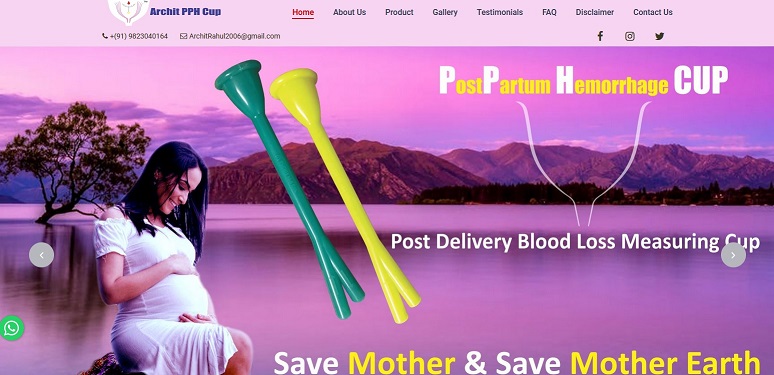 Post-partum blood loss is one of the leading causes of maternal deaths across the globe. There are no devices to measure accurate blood loss during childbirth, due to which doctors are not able to estimate an exact loss and arrive at the right conclusion. It made a schoolboy think about it.
Archit Rahul Patil, a 15-year-old schoolboy, developed a Postpartum Haemorrhage (PPH) cup to help detect blood loss post-delivery.
Archit's parents are doctors. In his childhood, he used to spend most of his time at the hospital after his school with his parents as there was no one to look after him at home. At that time, he was observing his parents and how they attended emergency cases. He realized that there were no devices or methods to measure the exact blood loss during childbirth.
Archit, a brilliant boy, has many exceptional achievements in Science and Mathematics, including national and international Science and Math Olympiads. He bagged many awards.
Archit came to know the concept of a menstrual cup as part of his science research project in Class 6. He wanted to develop a PPH cup based on the concept of menstrual cups.
He discussed the idea with his parents in 2018 and designed the prototype out of a menstrual cup. He cut the bottom part of the menstrual cup and joined the tubes to make the PPH cup. He took the feedback of many doctors before finalizing the prototype.
He designed the cup using medical-grade silicone. Hence, the cup is easy to clean and is reusable. The PPH cup can be inserted into the birth canal. It has a tube and collecting bag to measure the blood flow. The cup was first tested at the Krishna Hospital, Moraya Hospital and Vansh Hospital last year. So far, the device has been used by more than thousands of patients.
Archit received the Pradhan Mantri Rashtriya Bal Puraskar 2021 for his exceptional innovation and preventing post-partum deaths.
Image Credit: Architpphcup Website Screenshot
Image Reference: https://www.architpphcup.com/
What's new at WeRIndia.com