Health benefits of mango seeds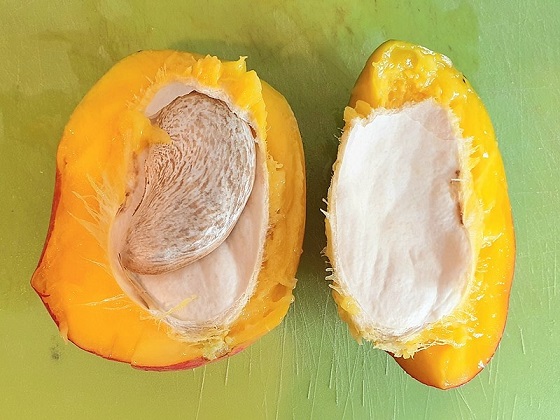 Mango is a delicious fruit, enjoyed by many around the world.
However, do you know that the seeds of mangoes also have numerous health benefits?
In fact, mango seeds have been used for centuries in Ayurvedic medicine.
Here are a few health benefits of mango seeds that you might not know about:
Mango seed butter can be applied to the hair for lustre and strength, as well as to control dandruff and reduce scalp irritation.
Mango seed powder can be used as toothpowder to keep teeth healthy.
Consuming powdered mango seeds with honey can help cure diarrhoea and dysentery.
Mango seed extract can help in weight loss, lower cholesterol levels, and improve blood circulation.
Mango seeds boost blood circulation and reduce bad cholesterol levels, which can help lower blood sugar and C-reactive protein levels.
Moderate consumption of mango seed can minimize the risk of cardiovascular diseases and hypertension.
Mango seed oil is a good source of essential fatty acids, minerals, and vitamins, making it an excellent choice for promoting healthy hair growth.
It is an excellent moisturizer, and mango seed butter can nourish and moisturize the skin.
Mango seed butter is ideal for dry skin, especially for delicate areas like the eyes and cheeks.
Mango seed butter can be used as a 100% natural lip balm to hydrate and soften dry lips.
Mango seeds can help lower blood sugar levels and reduce body fat, weight, and waist circumference.
A scrub made from ground mango seeds and tomatoes can help exfoliate the skin, unclog pores, and reduce redness, blackheads, breakouts, and blemishes.
Now, that you have known the health benefits of mango seeds. So, don't discard the seed next time you eat a mango.
Instead, consider using it to improve your overall health and well-being. With so many health benefits, mango seeds are worth a try!
Image Credit: An.ha, CC BY-SA 4.0, via Wikimedia Commons
Image Reference: https://commons.wikimedia.org/wiki/File:Mangifera_indica_pit.jpg
What's new at WeRIndia.com