Low-cost Solar roofs to help homes and e-carts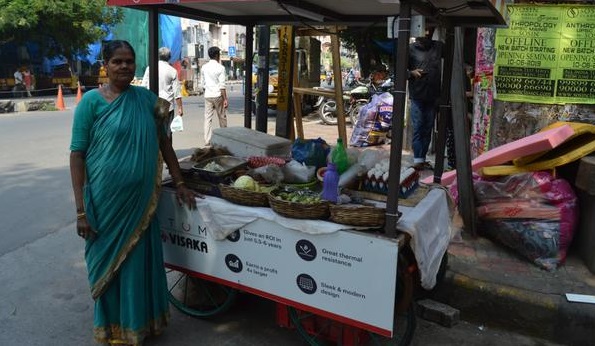 Utilizing solar energy in the country is becoming popular. Though the government provides some subsidy for solar panels, several people in the country are not in a position to afford them.
Visaka Industries wants to design energy-efficient and energy-generating solar roofing system at affordable prices.
The company's product ATUM is one such product.
The company has been taking several initiatives to build sustainable and environmental-friendly products for the last ten years.
It developed 'V-Next', a fibre cement board in 2017 which was the base of ATUM. The board was designed using fly ash and old cement bags.
It is strong enough to be substituted for plywood and gypsum boards. Hence many people in the country are using it while building their homes.
Then, they wanted to design solar roofs and they launched ATUM, the integrated solar rooftop.
It is very helpful to be installed in homes and e-carts for street vendors.
The ATUM rooftop was made by fixing 72 solar cells on V-Next to serve all functions of a normal roof.
It regulates the temperature due to its high thermal conductivity. Moreover, it does not need to be mounted upon surfaces like other conventional solar panels.
One can just place it like tiles as per the dimensions of their home. Hence, space can be utilized to the maximum extent.
The ATUM rooftop can generate approximately 320W of power. It is rustproof and leak-proof. It can withstand fire for almost 3 hours and bear a load of up to 300 kilograms.
It is also durable and can last up to 30 years.
The company designed ATUM powered e-carts and donated to some street vendors in Hyderabad.
A light bulb and a fan can be powered with the solar roof. A mobile phone can also be charged with this power.
ATUM is operating in all major cities including Delhi, Mumbai, Kolkata, Chennai, Bengaluru, Hyderabad, Ahmedabad, Pune, Kochi and Goa.
Image Reference: Thebetterindia
What's new at WeRIndia.com