Iron man like robots to guard our border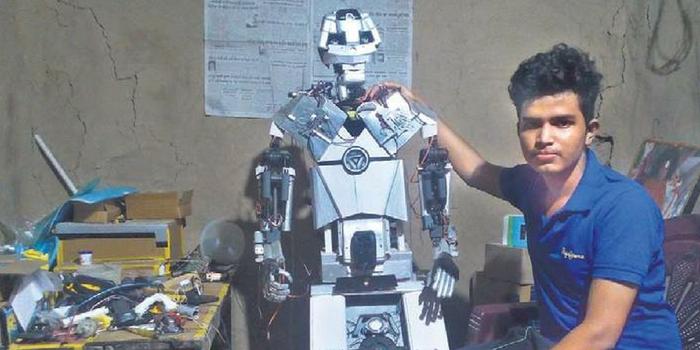 Neelmadhab Behera, a 12th grade seventeen-year-old boy hailing from the Talanagar Junior College in Balasore, Odisha, has managed to create a humanoid robot that can guard India's borders.
Its functions come from its artificial intelligence algorithms, in which information is stored on how to guard the Indian borders.
Not only does it have that function, but this robot can be used for entertainment, education, manufacturing, and domestic purposes as well.
The robot, called the "Atom 3.7", works on basic programming, with its fourteen sensors and five controls.
The design of the Atom 3.7 is simple as well, with a height of 4.7 feet and weight of about 30 kilograms.
Neelamadhab was always interested in science ever since he was a small child. He was always attracted to science-based toys, and enjoyed science projects as his favorite part of school.
His first full science project was in 3rd grade, while his first robotic project was in 6th grade.
This first robot of his was an unsuccessful build, but he was nevertheless intrigued by the field of robotics and became determined to develop his own robot one day. He studied further in the art of robotics, until he was eventually able to build this revolutionary prototype.
Now, the Atom 3.7 will be able to be further developed to guard our borders in place of the military, thus saving thousands of human lives.
Neelmadhab emphasizes that for this project to be fully successful, more money will have to be invested in the production of this prototype for it to reach its full life-saving potential.
He himself is planning to go further into the field of robotics and create more helpful robots, such as ones for women's safety.
The Atom 3.7 may just be the beginning of artificial intelligence being used to save and improve human lives.
Image Reference: TheNewIndianExpress, ECAMSECURE
Recent Posts

Amazon's first all-women delivery station in Andhra Pradesh

Codeine is used to treat pain.

Soluble fibre also helps reduce LDL cholesterol.
What's new at WeRIndia.com