IIT researchers find uses for orange peels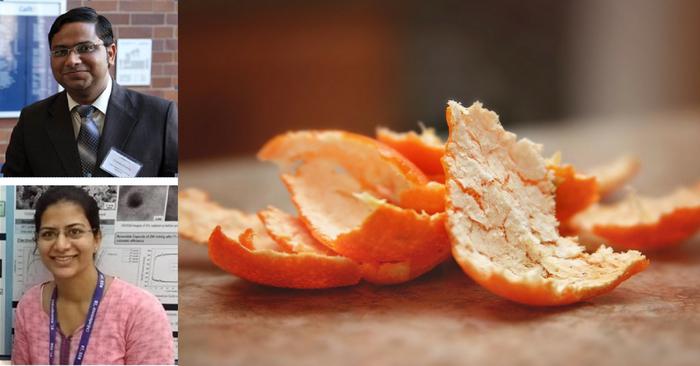 The peel of citrus fruits has little use after the juice of the fruits has been extracted. The extracts of citrus peel can be used to make certain specialty chemicals, such as limonene.
However, the process of making these chemicals with citrus peel extracts is unviable, since it is extremely energy intensive.
Yet, researchers at IIT Hyderabad (Indian Institute of Technology Hyderabad) have developed many more ways to use the peel of citrus fruits, which so often goes to waste.
The efforts of these IIT researchers will give people more incentive to recycle their citrus peel instead of throwing it away.
The pure extract of citrus peel can be used for recycling polystyrene waste. Polystyrene waste is not biodegradable.
However, its life can be extended after recycling. Recycled polystyrene waste-based ultrathin fibers can be made into polystyrene fabric.
This fabric can be used for cleaning household-level oil spills. It can also be used to clean up large oil spills in water bodies or industrial units.
Polystyrene fabric can also be used as a flexible insulator when constructing buildings. It can even be converted into yarns for textile applications. The presence of the limonene compound in citrus peel is responsible for the formation of polystyrene fabric.
Citrus peel can also be used for print transfer. The print transfer technique is used to transfer any pattern from one surface to another surface.
This technique can be used to make skin tattoos or nail art. It can also be used for printing objects made up of various substances, such as wood, paper, glass, cloth, and mica.
The IIT researchers developed uses for the three layers of citrus peel extract, after it is allowed to sediment under gravity. The top layer can be used for polystyrene.
The second layer, composed of cellulose, can be converted into carbon material, which can be used as an electrode for Lithium ion batteries.
The third layer can be used as a natural solvent for biopolymers, such as gelatin.
This can be used to make nanofibers. Thanks to the efforts of these researchers from IIT Hyderabad, people will have much more reason to recycle their citrus peel and put it to good use, instead of letting it go to waste.
Image Reference: Thebetterindia
What's new at WeRIndia.com