Hope Machine ends manual scavenging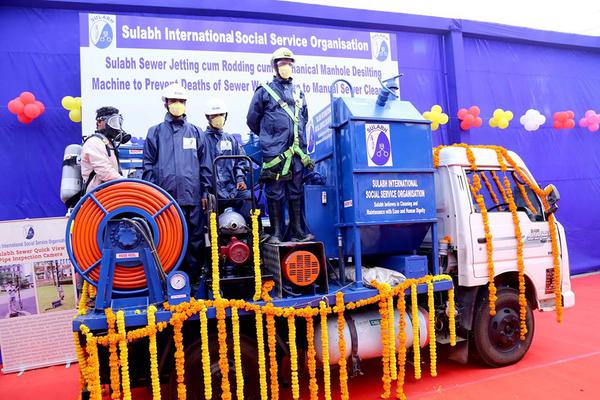 Despite the prohibition on manual scavenging, it is being continued in several cities in India.
There is a law made by the Parliament prohibiting this malicious practice nearly 25 years ago.
Manual scavenging leads to several deaths as well. Reports state that there is at least one death every five days among cleaning sewers and septic tanks in the country.
In this context, Sulabh International, one of the social service organizations unveiled the purchase of country's 'first sewage cleaning machine'. It hopes to put end to the manual scavenging practice.
The machine is also called 'Hope Machine' as it gives hope to end this vicious practice in the country. Pune-based firm Kam-Avida developed this machine.
This jet-cum-rodding-cum-mechanical manhole desilting machine costs ₹43 lakh per piece.
Hope machine collects the waste with a mechanical bucket that is operated from ground level.
The machine has a gas-detecting device and protective gear to perform various functions.
For instance, the remote-controlled inspection camera helps to produce high resolution images. The steel rods can be bent to de-choke sewer lines.
The hydraulics of the Hope machine help operate its systems.
The machine includes a high-pressure pump for jetting, hydraulics-operated grabber (it is a hand-like attachment) for desilting and a detachable mini machine that runs on electric power for rodding.
Normally, manual scavengers use bamboo sticks to do the job, but this rodding unit will be substituted to perform the job.
The machines can be operated even with small and narrow lanes as their width is just six feet.
Kam-Avida assured to offer a training program on using the machine for sanitation workers in Delhi.
Delhi Water Board has already placed an order for 200 Hope machines, out of which 80 machines are assured to put to work by the end of this year.
Image Reference: Thebetterindia
What's new at WeRIndia.com