Frido, A Foldable Wheelchair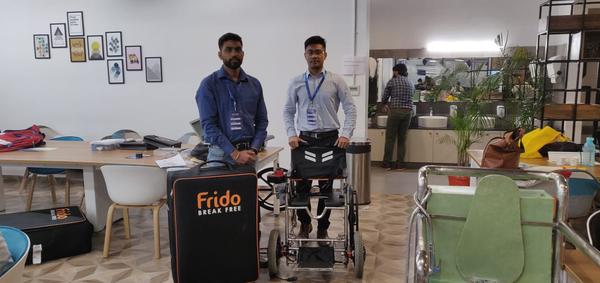 Wheelchairs are essential for physically challenged or people with limited mobility. It is very difficult to carry them to all the places wherever they go.
Most people find it hard when they depend on others for their toilet needs. They often feel embarrassed to go to the toilet many times.
How good would it be if a wheelchair is foldable after its use?
In order to help the specially-abled people that need wheelchairs in travel or bathrooms, a Pune startup designed a foldable wheelchair, Frido.
Patnaik from Bhubaneswar met with a road accident after which his left side was paralyzed. He was in a difficult at that time.
Now, he is happy with Frido, the foldable and bathroom-friendly wheelchair.
He asked Arcatron Mobility, the company that designs these wheelchairs to manufacture one for him before the product is being launched in the market.
Frido is serviceable in the indoors and bathrooms and is affordable. Based on the model, it is available in the range of ₹9,500 and ₹36,000.
Frido has a stainless steel body with a height adjusting feature. The seat is waterproof and can be cleaned easily.
It comes along with a suitcase in which it can be packed within a minute. Thus, the users can carry it wherever they go and there is no need to search for a wheelchair.
Frido is ISO certified. Initially, the company struggled a lot to show their proof of concept. Since it is being used by real patients, they had taken several precautions.
As the patients have to use them on their own without the assistance of a caregiver, they were concerned about them.
After many trial and error processes, they succeeded in designing a suitable product.
Raising funds was also another challenge. Now, the biggest challenge for the company is mass production of wheelchairs without compromising the quality.
Image Reference: Thebetterindia
What's new at WeRIndia.com