Eco-friendly Rubber from traditional fruit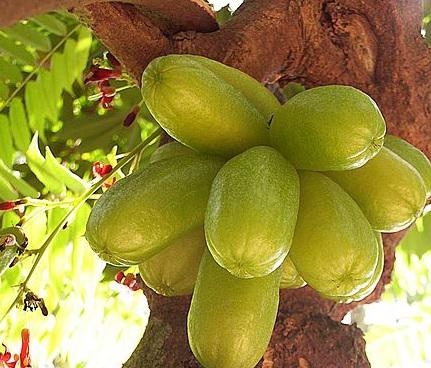 Some innovations in history were unexpected. While scientists were working for some other things, they found something else.
Here is one such case from some Mangaluru boys.
The two boys, Aman KA and A U Nachiketh of Indraprastha Vidyalaya participated at the regional science competition organised by the Science Society of India in 2016.
They wanted to develop a preservative from the green fruit bimbli (Avaherro Bilimbi) and developed vinegar from the fruit.
But it was found to be unusable for consumption at the laboratory due to its acetic acid content.
The boys were disappointed as there was only ten days of time. They did not know how to bring out a new product or concept to participate in the Science Fair.
At that time, Aman's mother helped them. She recalled how her father used the bimbli fruit extract in the coagulation of rubber latex to make sheets when he did not get enough formic acid.
Then, the boys started experiments with the extract of bimbli fruit. They added 60 ml of the fruit juice to a one-litre tray of rubber latex.
They tested the results and found that bimbli sped up the coagulation process of rubber latex by ten hours.
Normal formic acid takes 16 hours for the coagulation process whereas the fruit extract took only six hours.
Use of bimbli fruit has some other advantages as well.
Normally farmers use Para-Nitrophenol to give the rubber sheets a gold and yellow colour. The use of bimbli fruit extract eliminates the use of this type of chemicals. Thus, it reduces the cost of production of rubber sheets of superior quality.
When the rubber sheets produced by the boys were tested for grading, their product was given an A plus.
Another benefit is that these rubber sheets are harder and stronger than those made using formic acid.
Even the residue thrown after the coagulation process is safe to the soil. The boys received silver medal for their innovation.
Image Reference: Thebetterindia
What's new at WeRIndia.com