Coolest Innovations in 2018 – 2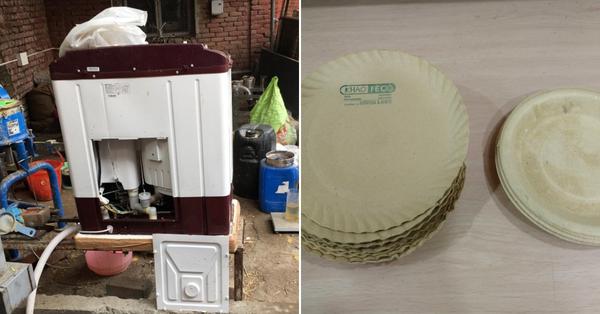 Here are some more coolest innovations of Indians in 2018:
Plates from paddy straw: Unlike other agricultural residues such as wheat straw and bagasse, paddy straw has no use either as an industrial raw material or cattle feed. As a result, farmers burn it to avoid unnecessary transportation and storage cost.
In this context, a team from IIT-Delhi has developed a viable solution for paddy stubble.
They developed a process which converts paddy stubble into different grades of pulp which can be used as raw material for making paper plates, fabric, bioethanol, biodegradable tableware etc.
The farmers can earn profits with the sale of paddy straw if the process has been made into full use.
The team named the disposable tableware made from this pulp as KhaofECO.
Manovue:Roopam Sharma innovated the world's first wearable virtual assistant for visually impaired. This intelligent assistant uses artificial intelligence and eliminates the need for braille.
He established a startup called Manovue. It works as a wearable glove with the help of an integrated mobile phone app which enables the users to read printed text by just moving his/her finger over the text.
Green firecrackers: Firecrackers are one of the major reasons for environment pollution. That's why the Supreme Court banned bursting of firecrackers during Diwali and imposed restrictions on the same.
The Court also ordered to make green crackers to save the environment from pollution. In this context, Dr Samrat Ghosh from Mohali developed green firecrackers.
Dr. Ghosh is working as an Assistant Professor at the Department of Chemical Sciences, Indian Institute of Science Education & Research, Mohali.
He made firecrackers using recycled plastic bottles which are safe to be used by both children as well as adults.
They emit no smoke. The notable thing about these crackers is they are reusable.
The disposable bottles are filled combustible material which can be ignited like a spark with some source.
Pressure is generated with the burning of material which pushes the bottle upward like a rocket.
Image Reference: Thebetterindia
What's new at WeRIndia.com